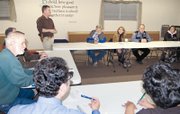 SPOKANE - For the first time in decades, the Bickleton boys will have its entire cross country team at State-a goal that Coach Darrell Lang has been eager to reach.
"About three weeks ago I took a peek at the District standings and felt like we had a chance to gain a team berth," Lang said. "We knew Junior (Hernandez) would be in the top three or four and it looked like Taylor (Brown) and Justin (Roberts) had really good shots at making the top 30 and an individual berth.
"But to achieve a team berth would take all five Pirates running and scoring their best. Three of the youngest Pirates did just that, as all three freshmen (Cummings, Brown and Roberts) set new all time PRs in this race."
Cummings had the biggest gain at the District meet in Spokane this past Saturday, improving his time by 1:08. Brown improved his time by 54 seconds and Roberts by 49.
Perhaps it was teammate Christina Wilson who set the tone for the Pirates in the girls race, Lang said.
Inspired by Danielle Raschko's senior-year performance on the Spokane course last year, Wilson improved her time by more than a minute, too.
When she ran the first mile in a best ever time of 6:33, she spooked Lang a bit. "This caused me some concern because she was 15 seconds faster than her usual pace," he said. But, he added, "You do not run a PR by going out slow."
Last year, Wilson was four places out from a State berth. But, Lang said, "She witnessed Danielle overcome a mid-season injury to run an inspired race while taking seventh place."
Wilson placed ninth in last Saturday's race out of 48 runners, clocking in at 22:07 and earning an individual State berth. Morgan Wilson of Colfax finished more than a minute ahead of all of the other runners with a time of 18:46. Second place runner Christina Anderson of Northwest Christian-Colbert clocked in at 20:14.
The boys team then set off for their District run.
Team captain Hernandez finished in fourth place with a time of 17:40. First place finisher Nik Michel of Republic clocked in at 16:53.
"Hernandez first qualified for State as an eighth grader and has been our heart and soul for the last five years," said Lang. "This year he found new inspiration from this first year gang of three freshmen and one sophomore." Lang credits Hernandez with leading and inspiring the younger runners.
Brown, the highest placing freshman in the District meet, placed 20th with a time of 19:07. Roberts placed 31st, clocking in at 19:52. Teammate Cummings ran the course in 21:34 for a 53rd place finish, and Nic Venema placed 64th with a time of 22:36.
By the end of the race, Lang had no idea how his team had fared.
"I didn't know where we were when they did the awards," he said. When he heard Reardon had placed sixth, his heart sank. Then, he said, "When they said Bickleton fifth place I was jumping up and down."
The fact they get to go as a team almost didn't come to be. Venema mulled joining the team for two full weeks, with pestering from Lang.
"He joined on the last day he could possibly join," Lang said.
Wilson, representing Bickleton's girls team, and the boys team will run this coming Saturday at Sun Willows Golf Course in Pasco. The girls race begins at 10 a.m. and the boys run at 11:30.