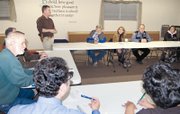 Momentum is building towards starting neighborhood block watches in Sunnyside. That was one of the big announcements made last night, Monday, to a committee of local volunteers and agencies participating in a gang reduction initiative.
Phil Schenck is the deputy police chief for Sunnyside, and he said Officer Scott Orate is at work organizing two or three watches in the city.
Orate said a block watch gets rolling when residents in a neighborhood call the police station to inquire and then agree to meet together with Orate. For more information or to get a block watch started, call Orate at 837-2120.
Also during last night's meeting, Sunnyside's Promise board chair Nate Bridges announced a $75,000 grant awarded to Yakima County by the Gates Foundation. A $75,000 match is required.
Of the total $150,000, Bridges said $50,000 is designated for Yakima and the rest for the Lower Valley, including Sunnyside's Promise. Bridges said the group doesn't yet know what the money can be spent on and should know more in the next 10 days.
Even after the details of the grant are established, Bridges said it would likely be January before the money would arrive.
The upshot, though, is that the gang reduction effort is getting noticed both regionally and now nationally with the Gates grant.
"These may seem to be little things," Bridges said of the individual efforts within the gang reduction movement. "But they are making a difference."
One of those efforts is the Lucky 7 bike repair program. A total of 14 youngsters recently were the first to complete the program and receive their bikes. "It was very inspiring, learning about bikes and how they work," said Justin Leon of Sunnyside, one of the bike program's first graduates.
The bike program will be winding down in the next few days for winter, but help is needed for next spring when it re-opens.
The primary needs are for volunteers and more tool sets. Currently there are only two sets of tools available at a time...when there are at times up to 20 kids and sometimes parents wanting to work on bikes.
There is a waiting list of more than 60 children wanting to participate in Lucky 7.
There is also a move afoot to plan for a possible bike/skate park somewhere in downtown Sunnyside. The skate park the city of Sunnyside built a few years ago at Sunnyview Park is too far away for children to get to, the group discussed last night.
Also looking ahead, the group decided to seek funding for simultaneous Spanish/English translation headsets as a way to encourage more of the Hispanic community to participate in the gang reduction meetings.
It was noted, as an example, the Spanish translation for 100 or so people who packed the last Sunnyside City Council meeting in support of soccer fields could have benefitted from headsets. The council chambers that night was packed with soccer players in uniform advocating for the new soccer fields near the Law and Justice building.
Last night's meeting didn't just focus on Sunnyside, though.
Efforts are underway to secure financing for a full-time person to work in the community of Outlook as a case manager, working with families and the elementary school there as a way to address gangs in that community.
The next gang reduction meeting will be Monday, Dec. 7, at 6:30 p.m. in Cornerstone Assembly of God Church in Sunnyside.