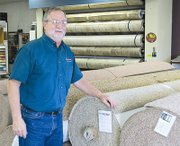 Standard Paint and Abbey Carpet in Sunnyside has announced the addition of Jerry Monroe to its sales staff.
Monroe brings 37 years of experience helping customers in the lower Yakima Valley choose flooring for their homes.
He was born and raised in Sunnyside and began his career at Shuley's in 1972. Monroe spent 18 years at Shuley's before moving to Bieber Brothers Fashion Floors after the owner of Shuley's decided to retire. He continued his dedication to customer service at Bieber Brothers for the next 19 years.
Monroe says he enjoys helping customers find the flooring, paint and supplies that best fit their style and budget. He adds that he is pleased to be working for a company that shares his values in customer service. With Monroe on staff, Standard Paint and Abbey Carpet in Sunnyside has expanded its floor covering department to include in stock carpet, vinyl and laminate flooring to offer their Sunnyside customers more selection than ever before.
Standard Paint and Abbey Carpet is located at 222 South Sixth Street in Sunnyside. Business hours are Monday through Friday 7:30 a.m. to 5:30 p.m. and Saturday 8 a.m. to 1 p.m.