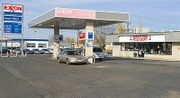 Car companies might be going under and lay-offs are looming all over America but convenience stores are seemingly untouchable during these tough times.
Things are so good in fact that Bobby Kumar, who until recently leased the space known as Sunnyside Food Mart, decided to purchase the 28,000 square-foot piece of property at the corner of Sixth Street and Yakima Valley Highway in Sunnyside.
Kumar began leasing the store and property in June of 2008. Kumar said that the owners, Time Oil, offered to sell him the property then, but he decided to do the lease-option first to see how well business would be.
"We had a good response the first year," he said. "I decided why pay rent."
Kumar said he hasn't been affected by the current economic crisis because people need to buy gas. He said it really doesn't matter if gas is $2 or $4 a gallon, people will still buy it.
Along with gas goes goodies and beer, two things that never suffer during a crisis.
Kumar said to help bring people into his store he purposely keeps his prices low. Although he is not the cheapest gas station in town, Kumar said he keeps his prices at least 2¢ to 3¢ cheaper than most of his competitors.
He said he also likes to keep his cases of beer at least $2 to $3 cheaper than his competitors, as well.
Another factor that weighed in on his decision to buy the property from Time Oil is the people of Sunnyside.
"I like the small town," he said. "The people are friendly."
Kumar would like to expand the business in the future. He sees building some office space or even a cash checking business.