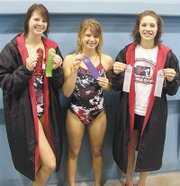 ELLENSBURG - Sunnyside's Marisa Broersma is readying for State competition and teammate Toni Castillo has a shot at a wildcard berth for the event, which takes place Nov. 12 - 14 in Federal Way.
Broersma earned her State berth in the 100 breaststroke weeks ago. According to Coach Jake Kessler, she swims the 100 breast in about 1:11.91. The State cut-off time is 1:12.50. In last Saturday's District race, Broersma clocked in at 1:12.50 for a second place finish.
"Aside from a long glide into the finish, it was a solid race for her as she begins preparations for the State meet in two weeks," Kessler said. A Hanford swimmer took top honors in the race with a time of 1:09.90.
Despite recording her season best in the 50 free and earning a third place finish, Castillo's time of 26.12 at District was more than six seconds over the State cut-off time of 20.75.
"In the 50 free, you cannot make any mistakes because it's so fast," Kessler said. When Castillo went to smack the touchpad to stop the clock, she accidentally grabbed the gutter, he said.
Castillo rebounded, earning a season-best time and third place honors in the 100 fly with a time of 1:03.18. The State cut-off time in this race is 1:02.25.
But Kessler thinks once the rest of the schools finish up Districts this coming weekend, Castillo just might be selected for a wildcard berth. "But we won't know that for a week," he said. "In a best case scenario, she'll practice this week and get selected for the wildcard."
Castillo, he said, encountered numerous small challenges, like getting sick twice during the season and a shoulder injury, that led to a very challenging swim season.
Sunnyside swimmer Abbeigh Gurwell at last weekend's District competition shaved six seconds off of her backstroke time from the preliminary race on Friday to finals on Saturday. "Needless to say, she was quite pleased with her time," Kessler said, noting she clocked in at 1:45.85 for a seventh place finish.
Broersma, and possibly Castillo, will swim at the State meet in two weeks.