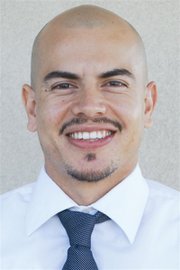 MABTON - One thing is certain when it comes to the Mabton City Council, change looms on the horizon.
Following the primary, incumbent Mayor Velva Herrera was voted out of the electoral process and it came down to a mayoral race between current councilman Angel Reyna and Mabton business owner Daniel Jun.
It appears as though Reyna, who is currently Mayor Pro Tem, has been elected to the position. As of the initial voting results, Reyna captured 79 of 120 votes for 65.83 percent, while 41 Mabtonites cast their ballots in favor of Jun for 34.17 percent.
In terms of Reyna's now vacant council seat race, it's a tight race between candidates Maria Cepeda-Rose and Mark Gourneau with a five-vote gap between the two. Following the initial count, Rose garnered 51 votes, while Gourneau tallied 56-a race that's too close to call.
For Gourneau, it's too close for comfort. "I was hoping it wouldn't be as close," he said last night, Tuesday, in a phone interview. "It would be nice to know a definite answer, but I'm willing to wait it out."
Rose expressed surprise. "Wow," she said this morning. "That's pretty close."
Rose said that while she's eagerly awaiting updated tallies that will be posted by the auditor at 4:30 p.m. today, she'll be at peace with the outcome.
"I feel pretty excited that we're that close," she said. "We'll see at 4:30 who wins. If he wins, I'll congratulate him and wish him the best in representing the city of Mabton and the residents. If it's me, I'll wish myself the best," she said with a laugh.
Jun and Reyna are both hopeful for a better future for Mabton.
"I wish him luck," Jun said this morning. "I hope Mabton goes better than the past four years."
That sentiment was echoed by Oping Hutson, who, along with Sophie Sotelo, ran unopposed for Mabton city council positions. Hutson said, "We (as a council) haven't really talked about it, but we're hoping the new mayor will have better goals and things like that. We're hoping that we can get things running a little better."
Reyna's simply excited about helping Mabton live up to its potential.
"I'm excited with the potential the city has and the direction we're headed. That's where I'm at," he said last night. "We have the capability to move forward quickly and in a positive manner."
Current Mabton School Board Directors Elsa Sanchez and Jeannette Williams ran unopposed to retain their seats and both captured roughly 97 percent voter support.
Guadalupe Maldonado Jr., who filed during the special filing period, was elected to finish the remaining two years of his term on the Mabton School Board. He was unavailable for comment as of press time.