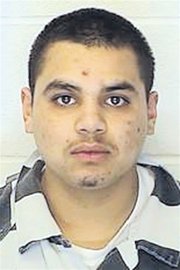 Sunnyside police are looking for 20-year-old Ramon Verduzco in connection with an assault with a firearm that took place in Sunnyside last night.
Shortly after 8 p.m. last night, Wednesday, the victim was driving in the area of North Avenue and Victory Way. His car was struck twice by bullets. No one was injured.
Further investigation led officer to identify the suspect as Verduzco.
Officers searched several residences and received assistance from the Moxee Police Department, where Verduzco has connections. He was not found.
Sunnyside police are continuing to search for Verduzco. Anyone with information on the whereabouts of Verduzco is asked to call Sunnyside Police at 836-6200.
Also since yesterday police have investigated four theft reports. They involved a vehicle that was broken into, a shoplifter, a stolen vehicle and a stolen wallet.
Police also dealt with one abandoned vehicle, two animal complaints, one report of disorderly conduct, one report of domestic violence, one report of harassment, two suspicious people or situations, four traffic stops and one report of trespassing.
Police also served one arrest warrant, assisted two agencies, provided one extra patrol and four welfare checks, and fielded one informational call.