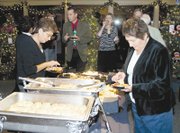 November is here, which means its time again for the Festival of Trees, an annual fundraiser by the Sunnyside Community Hospital Foundation.
Though a long-standing seasonal treat in Sunnyside, visitors to this year's festival, set for Friday, Nov. 20, are in for something new.
First there's the location. Held at the Mini-Mall on Sixth Street in past years, this year's Festival of Trees will be held at 327 Yakima Valley Highway. It's across from Bi-Rite Lumber and located in the former Knot Hole Gallery.
Also new this year are some of the trees. Tom Lathen works in public relations for the hospital, and he said some of the trees from past years were showing wear and tear.
"Some of the trees were ready to be retired," he said. The foundation has purchased some new trees to maintain its inventory.
There will be a total of 23 decorated trees at the festival. Each tree is sponsored by local Sunnyside businesses at a cost of $300 each.
The trees are then displayed in each of the sponsoring businesses after Thanksgiving and through the end of the year.
As usual, the Festival of Trees, which runs from 6 to 11 p.m., will feature plenty in the way of drink and food.
Lathen said the hospital's food services department will again handle the catering, with everything ranging from hors d'eurves to dessert.
Accompanying the food and drink will be music by Mark & Miller.
Tickets for the Festival of Trees are $35 per person, which includes two beverage scripts. The cost is $10 for children ages six to 12. There is no charge for children ages five and under.
For tickets call 837-1649.
All proceeds from the 2009 Festival of Trees will be designated for a new fetal heart monitor. Lathen said the goal is to raise $5,000 for the monitor.