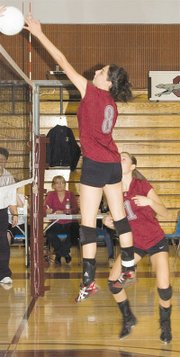 GRANDVIEW - The Grandview High School volleyball team survived a bout against a spirited Ellensburg Bulldogs team last night, Thursday, with a 25-23, 28-30, 17-25, 25-15, 15-8 win that moved the 'Hounds onto State.
Grandview will now play the Selah Vikings on Saturday, Nov. 7, at 3 p.m., at Othello. The game will decide the District championship and the number one and two seeds to the State tournament to be held in Kennewick Nov. 13-14.
Grandview Coach John LaFever told the Daily Sun News his team was behind early in the first three games last night but jumped out to early leads in the final two of the match.
"We were consistently behind by four or five points," LaFever said of his team's first game performance. "But we had a real good push at the end of the game to win it."
The Bulldogs came back to win games two and three, which put Grandview against the wall.
The Greyhounds easily won the fourth game and then pulled away from a 2-2 tie in the fifth.
That came courtesy of Gabby Sauve, who scored five straight points on her serve, including one ace, to put Grandview up 7-2.
Ellensburg was able to get two points back but then Marlee Andrews stepped up to serve and gave Grandview a 11-4 lead.
"Marlee did a great job," LaFever said.
With the game score at 11-4 both teams traded points until Grandview won 15-8.
"We played real well as a team," LaFever added. "That's exciting because we are so young."
Payton Parrish finished with eight kills, 22 assists, 10 digs, 13 service points and four aces for the Greyhounds. Teammate Brandi Atkinson added 17 assists, seven digs, six service points and one ace.
Adriana Ramos had 10 kills, seven blocks, seven digs, one service point and one ace for Grandview. She was followed by Kaitee Eucker, who finished the night with six kills, one assist, 20 digs, five service points and one ace.
Haley Smasne had nine kills, six blocks, two aces, six digs, eight service points and one ace for Grandview. Teammate Jessica Hall contributed three kills, three blocks, one assist and two digs.
Rounding out the stats for Grandview are Mikeala Espinoza, who had 10 kills, one block and seven digs; Crystal Navarro, who had one kill and 11 digs; Suave, who finished with 30 digs, 18 service points and two aces; and Marlee Andrews, who had five digs, 12 service points and one ace.
LaFever said Grandview is currently ranked #8 in the state. Selah is ranked #2.