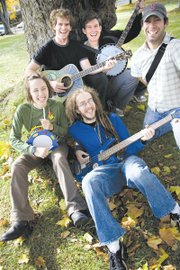 Community residents are being urged to attend a free concert at Sunnyside's First Church of Christ Scientist this coming Sunday, Nov. 8.
The Blessing Tree, a group of five young, talented Christians, will display their musical skills in what has been described as a lively, inspiring performance.
Church spokesman Donna Homer said everyone is welcome to attend the 1:30 p.m. performance.
The group's music, said Homer, will appeal to not only adults, but especially to youngsters and teenagers.
"They present a concert of fun, beautiful Bible songs, including a straight from Scripture sing-along of Jesus' Beautitudes (Matt. :5), as well as original prayer-inspired songs from Alex's "Tree of Life" album," said Homer.
The five musicians incorporate guitar, xylophone, flute, cello, kazoo, bass, ukelele, banjo and homemade percussion into their performance.
"All of the songs communicate something of God's guiding, enlivening love for us, His kids," Homer said.