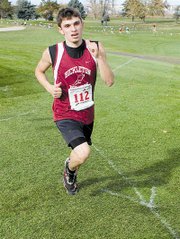 PASCO - Bickleton's entire boys cross country team competed at State in Pasco this past Saturday, a first for the small school in decades. But ultimately it was germs that held back standout runner Junior Hernandez.
Suffering from a sinus infection, Hernandez simply didn't have the energy, said Bickleton Coach Darrell Lang.
"The motivation and desire were in his heart, but there was no gas left in his tank as he faded late in the race and out of individual medal scoring to finish a disappointing 19th place," Lang said.
Hernandez has stood out from the beginning-he's been the number one runner since he began his career in cross country in the eighth grade. Lang said he has every reason to believe Hernandez will run at the "next level" should he pursue a college career.
Hernandez clocked in at 17:56, while first place finisher Lucas Graham of Northwest Christian-Lacey clocked in at 16:25.
As for Bickleton High School's rookie runners, Taylor Brown, Justin Roberts, Joshua Cummings and Nic Venema, Lang said, "They all ran strong first State meet races and the experience should pay great dividends in the next few years. Just having the opportunity to run in this race in their first year of cross country is a major plus in motivation and confidence heading into next season."
Brown finished the race in 81st place with a time of 19:33. Justin Roberts clocked in at 20:15 for a 105th place finish. Cummings and Venema finished 123rd and 125th with times of 21:38 and 21:58, respectively.
In her first ever appearance at State, Lady Pirate Christina Wilson finished in 37th place with a time of 22:47. Morgan Wilson of Colfax took top honors with a time of 18:36.
Ultimately, it was germs that bested Bickleton's Junior Hernandez, who finished in 19th place at State cross country competition this past Saturday in Pasco. Hernandez, who was battling a sinus infection during the race, has been Bickleton's top runner since he began his career in the eighth grade.