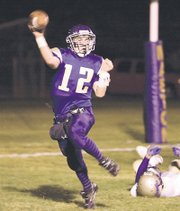 MABTON - The final game of the season for the Mabton-Bickleton football team ended this past Friday with a 49-0 loss to the visiting Columbia-Burbank Coyotes.
It was a cold night and the Vikings were missing some key players at key positions. Out were quarterback Josh Sanchez and running back Noe Gutierrez, both due to injuries.
The injuries had an immediate effect on Mabton-Bickleton's offense as the Vikings struggled to move the ball all night.
The Coyotes, however, had no problem moving the ball and scored both in the air and on the ground.
Dillon Rice threw for three touchdowns and completed 6-of-11 passes for 158 yards.
The Coyotes were also content to score on the ground and amassed 234 rushing yards and four Td's as they did it.
"We had a hard time moving the ball," Mabton-Bickleton Coach Brandon Harting said. 'With the guys we had we battled the best we could."
Harting said his team tried to pound the ball against the Coyotes. Mabton-Bickleton wasn't far behind in first down numbers, trailing only 11 to 7, but the big plays made the difference.
"They had the quick-strike ability," Harting said of the Coyotes. "Columbia-Burbank is a good team. They threw the ball well and we did what we could."
Harting heaped praise on Mabton-Bickleton quarterback Josh Strickland, whom he said did a good job of stepping in for the injured Sanchez.
"He played hard," Harting said. "He was a bright spot. He wanted the ball and kept competing."
Strickland was 0-for-2 in passing attempts but did gain 41 yards on 12 carries. Justin Appling ran the ball eight times for 25 yards and the freshman Peter Clinton rushed four times for 20 yards.
Mabton had 88 yards of total offense, all of it on the ground.
The loss leaves Mabton-Bickleton with a season record of 2-8.
On a more positive note, Harting said Noe Gutierrez was named second team all-league linebacker in the SCAC West and was given honorable mention honors as running back.