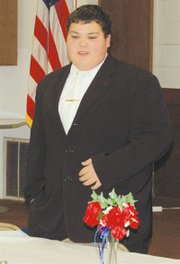 Two members of the House of Representatives and a Superior Court judge spoke to the American Legion Sunnyside Post last night, Monday, at the Sunnyside VFW hall.
Actually they were two high school seniors from Sunnyside and one from Granger, but for one week last summer all three filled those posts during Evergreen Boys State and Girls State at CWU.
Hannah Marro and Jazmine Salmeron of Sunnyside and Jose Leon of Granger spoke briefly of their experiences at the state week events and thanked the American Legion and Auxiliary for supporting them.
Before their speeches, though, the students joined American Legion and Auxiliary members for a Veterans Day dinner.
Sunnyside Post Commander Walter George told the audience that the post decided to invite the boys and girls state representatives to share in the meal. "This is our day but you add something to it...youth," George told the high school seniors.
During dinner, Leon shared how he was selected as a Superior Court Judge and was able to preside over cases.
In one instance he was able to pound the gavel and declare a fellow Boys State participant guilty of "trespassing" and assign him to 30 minutes of community service.
"It was kind of cool to hit the gavel," he smiled. "But it was kind of hard. I took detailed notes of the case to make sure my ruling was fair."
Leon added that the experience "opened my eyes to how government worked." He noted, "It's a time commitment and you have to be good with the public."
Boys State not only left an impression on Leon for the summer, but it may just have impacted his career choice as the Granger student said he is considering pursuing law studies after high school.
As representatives, Marro and Salmeron were responsible for joining others in proposing and passing laws.
Some of those laws were passed and put into action during the week of Girls State, ranging from a requirement to wear pajamas to breakfast to the more serious go green recycling measure.
Salmeron said Girls State taught her to respect the U.S. flag. She also learned to appreciate the work involved in running for office. "I learned about how much it takes."
She said giving speeches also was good preparation for her senior project.
Marro said the experience was a confidence-builder in speaking before other students to propose laws.
"It felt really empowering," she said. "I had to present the laws and getting them passed felt good."
The American Legion and Auxiliary are currently accepting applications for students interested in Boys State or Girls State in 2010. George can be contacted at 837-3498.