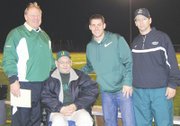 PORTLAND, ORE. - During halftime of a recent Jesuit High School football game, the George Potter family was honored as Nike made a $26,000 donation in the family's name to the Police Activities League of Greater Portland.
Potter was a successful, long-time football coach at Sunnyside High School who coached a total of 43 years, 22 in Washington and 21 in Oregon. He is in the Coaches Hall of Fame in the state of Washington.
His legacy doesn't end there, though, as he has two sons who are longtime coaches at Jesuit.
One son, Ken, is in his 23rd year at the Jesuit football helm and has amassed a record of 211-51, including three State championships.
The other son, Gene, will be starting his 18th season as head coach of the Jesuit boys basketball program and has amassed a 344-115 record. His teams have won three State titles and made nine consecutive trips to the State tourney. Gene is also in his 23rd season as an assistant coach for the Jesuit football program.
Potter and his two sons have a combined 95 years of experience in coaching high school football.
The Police Activities League is a non-profit organization in the Portland area that provides educational, recreational and athletic programs to underprivileged youth.