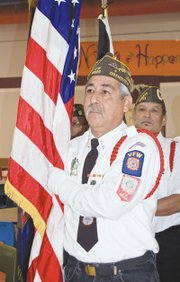 GRANDVIEW - Freedom isn't free.
That message was reiterated through a speaker, poems, song and more to Grandview High School students yesterday, Tuesday, during an assembly to honor Veterans Day.
Veterans from Grandview's VFW Post sat in the center of the gym while students and the featured guest speaker honored their service to this country.
Army Reservist Ben Gonzalez urged students to always understand there is a high price for freedom, though it's easy to take for granted. A soldier, he said, "is part of a greater team. There's a purpose in what we do, whether you're a driver, a cook, everyone contributes to accomplishing a goal: freedom."
Gonzalez said, "Some soldiers receive physical wounds and for many soldiers and veterans, we don't see the wounds inside."
He asked students to think of freedom and its price every time they see an American flag.
Students also learned that when a flag is folded at a veteran or soldier's funeral, each of the twelve folds is specifically symbolic. For example, fold one symbolizes life, fold two symbolizes eternal life. The folds include a symbolic tribute to allegiance to the flag and the republic for which it stands, as well as symbolic folds honoring mothers and fathers. The students were told that when a flag is completely folded, the stars point up, which is symbolic of the words "In God We Trust."
GHS student Sara Roberts read a poem by Jaimie Burns called "Heroes Die For Me," in which a tribute to soldiers is made from a flag's perspective, as though the flag is not an inanimate object.
The most gripping line in the poem? "Thank you, all of you, who kept me flying in this breeze."