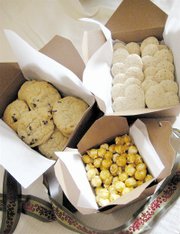 GRANDVIEW - The Grandview Junior Miss program is introducing a new winter fundraiser this year with its Holiday Treat Towers featuring three delicious types of delights for $15.
Each tower includes three layers of boxes filled with goodies: one dozen Mexican wedding cookies, one dozen chocolate chip cookies and a small box of caramel corn. All of the treats are homemade, making for a wonderful Christmas gift, hostess present or easy snack for visiting guests and family.
Grandview Junior Miss committee member Elena Olmstead was brainstorming fundraising ideas with a friend one day, which is how the idea came about. "I got to thinking about what people are looking for this time of year," Olmstead said. Her friend then reminded Olmstead that one year she gave treat towers as gifts. Immediately, Olmstead was all for it. "Baked goods just make a good gift and they're good to have around the house this time of year, too."
Olmstead's mother and sister will take on the task of baking the Mexican wedding cookies, which they've enjoyed doing together in the past. "I made sure to get their blessing before I added that to the fundraiser," Olmstead said. Grandview Junior Miss Director Cookie Shannon will make her famous chocolate chip cookies and Olmstead will make the caramel corn.
Olmstead said orders are being processed and can be made until the end of the month. The towers will be available for pick-up on Friday and Saturday, Dec. 11 and 12 at a as-of-yet unspecified location.
To place an order, call Shannon at 882-3198 or Olmstead at 882-3721.