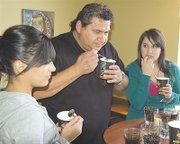 Some had a fruity aroma, others were more on the floral side.
One of many wine tastings in the Lower Valley?
Guess again. It was a coffee cupping and tasting event held yesterday, Wednesday, at Guerra's Coffee in Sunnyside.
Much like a wine tasting, yesterday's event involved sniffing and swirling coffee samples on the tongue.
The difference was that it was coffee. "Some beans have a caramel or chocolate note," said Megan Lamken, a master barista with Seattle-based Caffe D'Arte.
Lamken was in town to offer the coffee cupping and tasting at Guerra's since the coffee house uses and sells Caffe D'Arte beans.
She started a group of Guerra baristas out with sampling the aromas of coffee beans from Honduras, the Caribbean and Brazil.
After that, Lamken presented drinking samples of the coffee, pouring hot water on the same coffee samples that had their beans processed in a French press grind.
After the water had a chance to sit in the coffee for awhile, Lamken instructed the baristas on breaking the crust, using the bottom of a spoon to gently nudge away the surface of the coffee. She says doing that helps to better appreciate the aroma of the coffee once it is in the cup.
Lamken advised the baristas that the coffee will have different aromas once it goes from bean to cup.
All of that set the stage for tasting the coffee. Lamken instructed the baristas to take a teaspoon of the coffee and essentially slurp it in such a way to "spray your palate to get different notes of the coffee."
As with wine tastings, the sample was then spit out to clear the way for the next sample.
Lamken said it's important to note that the different countries sampled all have different soil types. And that means subtle changes in a coffee's aroma and taste.
Lamken offered the cupping and tasting event to the public yesterday, but she started with the baristas at Guerra's Coffee.
She said the coffee sampling will help them to better recommend coffee beans to customers. "If a customer wants a lighter coffee, they'll (the baristas) know which beans have a floral scent," Lamken said.
Coffee house owner Lino Guerra agreed.
"I think it's going to help each of us," said Guerra. "Like wine each bean grows in different climates. Each has a different scent."
Guerra said coffee events like yesterday are a big reason he decided to go with Caffe D'Arte.
"The beans aren't just thrown together," he said. "But they're selected by professional people."