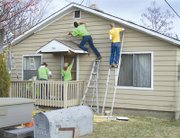 Amazing, blessed, incredible. Those were the adjectives heard from the people of Sunnyside who volunteered last Saturday.
At 6:45 a.m. cars with headlights glowing were already pulling in to the Sunnyside Christian High School parking lot. Brian Bosma brought some of his dairy crew. Jerry Haak brought about ten of his orchard crew. A couple of youth groups arrived eager to help. About 140 people, men and women from ages 12 to 80 came to paint, clean-up yards and alleys, or drive snacks and lunch to the work sites.
By 7 a.m. the cafeteria was almost full. The Miss Sunnyside court greeted the volunteers. Breakfast was brought by volunteers and served by Randy and Karen Altena, who coordinated all the food for the day.
After a couple of cups of coffee or juice, the group met in the gym where Leroy Werkhoven, Pastors Roberto Matus and Gerry Muller, and Sunnyside Mayor Paul Garcia greeted the volunteers. The vounteers divided themselves up into groups for the respective sites and off they went.
By 8 they met the home owners. Amazingly, it was already warm enough to paint. Although rain had been forecast, it didn't fall that day on Sunnyside!
On arriving at one of the homes, the family was out very early putting primer on their garage. They had their home scraped, primered and were ready to join the group in the final coats. Because of the advance work of the family, that volunteer group was finished with the beige house and white trim by 12:30 p.m.
All the owners expressed much appreciation for the help they were given and the care they were shown.
Six homes and nine areas surrounding homes stand out in our community today.
They were cared for, their owners were shown love, and the volunteers were blessed.
One home owner gave a donation out of their appreciation, they said, for the next home to be painted. They wanted to help spread this effort around the community. Others wanted to know when the next Loving Sunnyside Day is scheduled so they can help others!