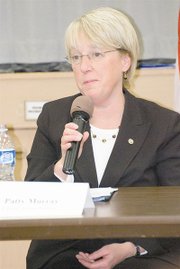 GRANDVIEW - There is a great desire for immigration reform.
That's according to Central Washington Latino leaders yesterday, who had the privilege of meeting with Sen. Patty Murray at Grandview's Carl L. Stevens Senior Center.
A group of approximately 10 individuals representing organizations that serve the Hispanic community in the region sat down to share their thoughts.
Manuel Villafan Jr., Washington State Hispanic Commissioner for Yakima and Kittitas counties, was the first to tell Murray immigration reform is important to the community.
He said, "The immigration piece of legislation is an issue here...there are many roadblocks to meeting the needs of families because of citizen status."
Carole Folsom-Hill of La Casa Hogar echoed his sentiments, as did most of the others gathered at yesterday's meeting.
"There is a great need for families to stay united," she shared, stating her organization serves women, helping them meet goals and become empowered.
"Whenever there is a raid, everything in the lives of those who are undocumented is overcome with fear," said Folsom-Hill.
She said the current immigration laws separate families.
The Dream Act would be a starting point to immigration reform, according to Maria Fernandez, Executive Director of Radio Cadena in Granger. She said there are many in the community whose skills and intelligence are being underutilized because of citizenship status.
"There is a disconnect with parents because of fears associated with citizen status," she said, explaining immigration laws keep youngsters from achieving their dreams. She said parents aren't as involved in the education of their children. Those children become "marginalized" and sometimes get involved in gang activity.
"We need to give them a voice," she stated.
Consejo Program Manager Marisol Avila said her agency works with Hispanic women, 90 percent of those women are not documented.
"I personally have seen many problems with individuals without a voice," she shared, stating she knows of one woman whose family was "ripped apart" during the woman's high-risk pregnancy.
"Immigration reform is important because families and individuals come here to work," said Avila.
"It has been more than 20 years since the laws were reformed and the system is broken," said Jesus Sosa.
He said individuals entering the U.S. without documentation are automatically labeled criminals.
Sosa not only blamed the laws, but those employing undocumented workers for the problems associated with immigration.
He told Murray everyone in the U.S. should be documented.
The Washington State Migrant Council, too, serves families impacted by the current laws. Executive Director Tadeo Saenz-Thompson told Murray, "There is a need to embrace all people."
He said education is another key element to serving the Hispanic community. His organization oversees Head Start programs and he told Murray he would like to see the government continue providing funding for the program.
Tomas Ybarra of Yakima Valley Community College said the Dream Act would help further the education of those seeking to improve their lives.
The college, he said, is seeing a large increase in the number of individuals seeking a college education, but the funding currently provided is not meeting the needs of the students.
"We are seeing a diversion of funding resources as there is a convergence of greater need," said Ybarra, stating community colleges are not the only educational institutions not receiving the resources needed.
Community Choice Executive Director Jesus Hernandez shared his views on the Dream Act, stating he feels it is a "quick win for all."
He said the U.S. is already importing labor and the Hispanic population is growing.
"Almost 20 percent of all college students are Hispanic," Hernandez said, stating skilled labor is not the only part of the work force with needs being met by immigrants.
With the Dream Act in place, he believes other sectors of the work force will be better filled.
Health care, too, was addressed by Hernandez. He said he is optimistic of the many opportunities that will be available to those in technological and medical services as a result of health care reform.
"It will improve access for many individuals in the region," Hernandez explained. "Negating health care for children of immigrants is, I believe, inhumane."
Murray wrapped up the discussion stating she is excited about the many ideas President Obama has for improving health care, education and immigration laws.
"In Washington D.C. the focus is on the economy and getting jobs," she stated, saying passing immigration reform is "difficult, hard and a tough balance."