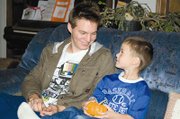 MABTON - If Jakob Donner is shell shocked as a result of going from a big city and life with a fellow populous of three and a half million or so to living on a farm and going to school in Mabton, he doesn't show it.
Perhaps that's because the foreign exchange student has had plenty of time to process it since landing in America and setting up temporary residence in Mabton at the home of Luke, Linda and young Noah Cussins.
The mother of four-year-old Noah, Linda Cussins said going from life with a toddler to life with a teenager has been an eye-opening experience, but the family searched their hearts before even making a decision about whether or not to serve as a host family. "We talked about it, we prayed about it, then we asked Noah. At first he said no, but a week later he thought it might be a good idea."
After Donner moved in, Cussins noticed something immediately. "Boy, does he eat! But that's teenagers for you!"
For Donner, his mother struggled with the idea of sending her 16-year-old (who would turn 17 a day after coming to the U.S.) to America. "My mom, she didn't want to let me go," Donner said. "My father saw it as a good experience, that I'd grow in it and have a lot of fun."
Donner said that his father had a friend growing up that participated in a student exchange program. His father had that friend speak to the younger Donner about it.
Life's different here in the United States, though, and likely even more so in Mabton. Donner is used to hopping on a train or getting on his bicycle and quickly reaching his destination. "The distance is so small (short)," said Donner. "The trains, they come every five minutes, so it's no big deal." That's not so in Mabton. He's got to depend on mostly the Cussins or the school bus to go from one place to the next.
Typically, foreign exchange students are not allowed to drive while overseas, and that's the case with Donner, although taking driver's education through the school district might be a possibility. It'd be cheaper, too. Donner said in Germany, young people have to not only wait until they're 18 before they can drive, but must also shell out $2,000 for driver's education. In Mabton, it will cost less than $500.
"It's very different for me that people my age here can drive," he said.
Life in schools is different here, too. Donner said in Germany, a lecture format of teaching is common. But here, the teaching style depends on the teacher, he noted.
Another adjustment Donner's had to make has to do with homework. Cussins said in Germany, the students are instructed to do work outside of school, but as a rule do not necessarily have to turn it in. In Mabton, that took some getting used to for Donner.
His independence as he knew it in Germany is gone, too. Cussins said Donner was not used to having to tell someone where he is or who he's with. "It's strange to be in this situation," he said. "I can do what I want, but it's because (my parents) trust me."
Cussins agreed. "He didn't (understand) that so quickly when he came. His parents trust him, they know him."
One aspect about Donner's life in his home country that perhaps Americans would have a hard time fathoming is border control. Living there, going to another country isn't the undertaking it is here, other countries are relatively close by. But there's another difference, too. Of passports, he said, "We need (passports), but they don't check us. They have borders, but you just go through it." Arriving in the United States, he said, "That was new. I've traveled before and they checked me, but not like this."
Cussins said even after two and half months of living together, everyone is still working things out in terms of how to fit in with each other.
One thing's certain, young Noah's having fun with "brother Jakob," often asking Donner how to say certain words in German, and offering to count reps when Donner lifts weights.
"I think four and five-year-old is a good age for Noah, he's apt to remember (Jakob)," Cussins said.