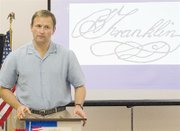 Not immune to occasional espionage or trying to win the hearts of the ladies, Ben Franklin was a man of his time and ahead of his time.
That's according to Kenneth Zonteck, a YVCC history professor who lectured yesterday, Sunday, at the Sunnyside Library on the topic, "Franklin, The Diplomat."
Zonteck, who also teaches history at Heritage University, knows something about diplomacy.
He has been on two tours with the National Guard in Afghanistan and has served in diplomatic negotiations representing U.S. interests. In one instance, he negotiated with representatives from four different countries while in Afghanistan.
Zonteck said that Franklin employed classic diplomatic strategies of staying humble. "You have to set up every statement to get to the next statement," he said.
Franklin practiced what Zonteck called "pragmatic politics" in negotiating with the British, French, Native Americans, Swedes and Germans.
Zonteck noted Franklin's practice of corresponding with other countries even as war was waged with them.
While Franklin firmly preferred peace, at one time noting, "There never was a good war or bad peace," Zonteck said Franklin was a soldier earlier in his life. "He was willing to fight to get to a good peace," Zonteck added.
As a diplomat, Franklin lived 27 years in Europe, mixing with both the poor and royalty in an effort to gain sympathies for the colonies.
Zonteck praised Franklin's approach to France, which had a monarchy at the time. When visiting there, Franklin wore a coonskin cap and garb associated with the American frontier.
In so doing, Zonteck explained, Franklin could not be pegged either as a poor man or as a monarchy-favoring royalist.
Franklin had to walk a fine line in dealing with French royalty, Zonteck said, because he had to present the appeal of the revolutionary colonies while not seeming to knock the monarchy.
In fact, Franklin at one point in his life was in favor of the British monarchy and in seeing the colonies as just that, subjects of Great Britain.
Zonteck said that changed when Britain imposed taxes without seeking representation from the colonies.
Zonteck emphasized that colonists paid a small fraction of the taxes that British citizens paid, but the rallying point was that taxes were levied without input from the colonies.
While negotiating in Britain, Zonteck added, Franklin had to deal with a double agent that posed a danger to American interests.
Zonteck believes that was one of the situations where Franklin did some espionage of his own, feeding the double agent false information.
Franklin didn't always succeed in his diplomatic efforts, especially when it came to his personal life, Zonteck added. Franklin was estranged from his son, William, who as a former governor of New Jersey was a Tory strongly in favor of the British monarchy's rule in America.
Franklin and his son never came to terms over their differing views and never spoke.
Another time, Franklin was rebuffed when he vied for the affections of a French aristocrat.
Zonteck noted that Franklin was ahead of his time in his views on Native Americans. Franklin, Zonteck said, saw them as independent states and in the 1750s urged the colonies to form an alliance with them.
Franklin also decried the mass killings of Native Americans because an individual or group of individuals attacked white settlers. Franklin compared it to trying to kill "all freckled, red-haired children" because one caused him harm.
Zonteck's lecture was in association with the national touring Benjamin Franklin exhibit now on display at the Sunnyside Library. The exhibit is here through Dec. 4.