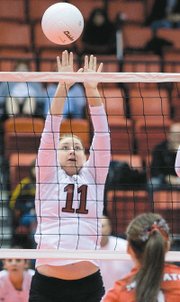 KENNEWICK - The Grandview High School volleyball team started the season young and inexperienced.
Made up mostly of juniors with a smattering of seniors, sophomores and freshmen; the Lady 'Hounds tore through the CWAC South on their way to the State tournament. Along the way Grandview collected a division title and earned a second seed at Districts.
But a placing at State wasn't in the cards for this young team. The Greyhounds lost to Archbishop Murphy this past Friday in the opening round of State play and then fell to R.A. Long on Saturday.
On Friday the Greyhounds were outmatched by the bigger Wildcats of Archbishop Murphy. Grandview boasts only one player that is 6 feet tall. The Wildcats have seven players reaching that height. This proved too much for Grandview to handle as the Wildcats won 25-12, 25-15, 25-11. Archbishop would go on to a second place finish on Saturday after losing to State champion Pullman in a five-game match.
"We played like a young team," Grandview Coach John LaFever said. "We made a lot of simple mistakes. We could have offered a lot more, but we didn't play very well."
On Saturday Grandview took on R.A. Long and was looking for a Top Eight finish and a trophy. After losing the first two games by scores of 25-16 and 25-23 to Grandview, the Lumberjills reeled off three straight games, 25-15, 25-22, 15-8, to come from behind and deny Grandview a trophy.
"It was an interesting finish," LaFever said. "We played well against R.A. Long and then just kind of gave up."
LaFever said his team got a little overconfident and started to look ahead to their next match before taking care of the Lumberjills.
"We thought we had it wrapped up," LaFever said of the R.A. Long match. "We could have played a little tougher. That's kind of how it goes."
Statistics for the match were misplaced and not available before press time. However, LaFever pointed out the play of Haley Smasne, Gabby Suave and Payton Parrish.
Besides not placing at State, LaFever said he was very happy with the season. He noted the team started out very young and inexperienced.
"It just shows you how much we ended up learning and improving," he added.
The Greyhounds finish the season with a record of 15-5.