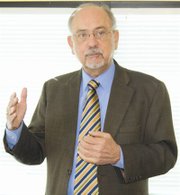 Health insurance rates rising through the roof and reduced levels of medical care will be the results if Congress approves a health care bill.
That's according to Fourth District Congressman Doc Hastings, who spoke this past Friday to the Sunnyside Republican Club.
Hastings conceded that type of language isn't in the health care bills in the House and Senate. "But if you connect the dots that's where you end up," he said during the luncheon meeting.
Hastings said the health care bill that recently passed the House with a tight margin calls for new spending of $1.3 trillion.
Paying for that, he says, means $700 billion in new taxes on those making $500,000 or more a year.
That sounds like a lot of money, he added, but small, family-owned businesses are not exempt. Speaking from personal experience, Hastings said that figure can be easy to reach when a business is in an individual's name and that person is also responsible for paying the bills.
Hastings also told local Republicans he is concerned that the health care bill would be paid for by removing $500 billion in what Democrats call waste from Medicare.
"They're cutting Medicare to create another entitlement program," he said. "If waste is there why weren't we cutting it before?"
Surveys say that about 80 to 85 percent of Americans are happy with their existing health care, according to Hastings.
But he said private insurance payers and those who receive insurance through their employee will also feel the effects of proposed health care legislation.
He told the packed luncheon crowd to ignore statements by Democrats that those happy with their current insurance can keep it.
Hastings says that's because by 2013 your private health insurance policy would have to include all the elements of the government's plan, including covering pre-existing conditions.
That's a recipe, he adds, for companies to simply stop selling insurance policies or raise rates so high people will have no choice than to join a government plan.
Once that happens, Hastings says it's only a matter of time before there's rationed care.
Again, he added that type of language isn't in the Senate or House bills, but it's the end result if you "connect the dots."
Locally, Sunnyside Community Hospital's bottom line could be impacted by health care legislation, according to Hastings.
Medicare reimbursement rates don't keep up with hospital charges, agreed LaDon Linde of SCH, and if a government plan is pegged to the same reimbursement rate then the hospital's level of care would be reduced.
Linde added that private insurance "keeps us afloat."
Hastings said there are still hurdles awaiting the health care proposals. The Senate has to find enough votes to move forward without a filibuster and that may be difficult as even some Democrats are opposed.
Even if it passes the Senate, the two bills would have to be merged.
Given the Christmas break on Capitol Hill, Hastings said it will likely be early into next year before anything is done.
In the meantime, he urged the audience to write their senators and voice their opinions.
Hastings also pointed to recent Republican victories in the governor races in Virginia and New Jersey, states that voted for Barack Obama in the 2008 presidential election.
Hastings indicated there may be more Republican victories in key November 2010 congressional elections, especially if health care legislation is enacted.
"We're getting quality candidates," he said. "Next year you're going to see something similar to the (1994) Contract with America."
That election year saw Hastings voted into the House as Republicans gained control.