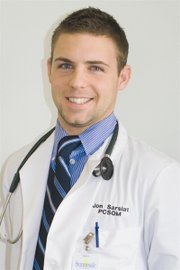 Pikeville College School of Osteopathic Medicine student Jon Sarsiat is currently studying under the tutelage of Dr. Steven Elerding in Sunnyside.
Sarsiat chose to do his third-year medical student rotation in the Pacific Northwest and his home base is in Yakima, as is Pacific Northwest University College of Osteopathic Medicine. It's through a partnership between the two schools that Sarsiat is able to study here.
During his rotation, one of Sarsiat's requirements is that he study for short periods of time, like a month or two, with physicians of varying specialties, like Elerding, who's a general surgeon. He's already completed rotations in family practice and gynecology. Following his time with Elerding, the athletic and ambitious med student will head back to Pikeville for a brief rotation in pediatrics.
Originally from British Columbia, Sarsiat earned a golf scholarship to several different schools. "I chose (Pikeville in) Kentucky and I played golf every semester for four years and tennis for two of those years. I was trying to help re-start the tennis program," he explained. "Obviously, my biggest focus was studying, time management is key."
Because of his ability to manage his time down to the minutia of taking a nap, Sarsiat was able to tutor the football team in math, assist with sports medicine for the girls basketball team and serve as class president his junior and senior years.
"I was pretty busy in college," he said. "I graduated with a Bachelor of Science, a biology major and chemistry minor."
After graduating from Pikeville, he went on to take a management job at Kellogg's. While there, he applied for medical school at his alma-mater.
"I chose osteopathic medicine," he said. "I didn't know much about it, but now that I do, I'm glad I'm in it. It's a great way to offer a helping hand, offer manipulative treatment in the right case scenario."
Sarsiat's possibilities are seemingly endless. He could specialize in plastic surgery, neurosurgery, family medicine and more.
This man who plans watching a big sporting event two weeks in advance in order to get the right amount of study time can't seem to make up his mind about which field he'll ultimately go in to.
"I'd be kind of naïve saying so right now," he said. But he added with a laugh, "If I had to choose right now, I'd say a form of surgery. I'm good with my hands." He credits that to his upbringing. His parents involved him in sports as early in his life as they possibly could. By the time he was two-and-a-half, he was playing hockey. By the time he was three, he was also playing soccer and tennis. A year later, he added baseball to the list.
"Staying active and allowing your kids a healthy lifestyle is important," he emphasized. "If you can get your kid to do team sports, they learn to play as a team, they learn discipline, it gives them a work ethic. It gives them skills that will help them all their lives."
To this day, he's still heavily involved in sports. "In the last year, I've played hockey in Yakima, soccer, softball, and beach volleyball."
One would think Sarsiat is destined for a career in sports medicine. That's not necessarily so. "You've got to work your way into that, but that's definitely an option." When asked what his top three favorite career paths as a doctor are, the optimistic med student had a hard time narrowing it down.
"The top four, in no specific order, would definitely be orthopedic surgery, general surgery, pediatric surgery or plastic surgery."
Sarsiat said plastic surgery appeals to him because of his creative nature. "Not because of the superficial aspect, but to help a burn victim, something like that."
Sarsiat has some time before he has to decide. He begins his residency in August or September 2010. "The hard part is finding a residency you want. You may not find one where you want to live, you may have to move." He said his preference is to work in the Pacific Northwest, but residencies on the west coast are harder to come by than in the Midwest.
Here soon, he'll get to see his sweetheart, Tracie McNamara, a second year Pikeville med student. Sarsiat's hopes are high that McNamara will get to do her rotations in the Pacific Northwest so they can be closer together, but that decision hangs in the balance right now.
Since being in this area, Sarsiat said he's frequently asked about his opinion on health care because he's from Canada. "I just stay out of it. I have no intelligent conversation to make. I was never sick, I never had surgery," he said.
Sarsiat said having a third year med student in a clinical setting is good for both the practicing physician and the scholar.
"Medical students and residents are really important in surgery because they give the surgeon extra help they can use. It's helpful in the community, and the student is able to help while learning." He emphasized he does not do surgery, but he's able to lend a hand for whatever the surgeon needs.
Sarsiat said if many of the Pacific Northwest University College of Osteopathic Medicine students in Yakima stay in the area to do their rotations next year, it will be good for all parties involved and a boon to the community.
Right now, though, Sarsiat's focus is on learning from Elerding.
"I'm kind of a perfectionist. If I put my mind to something, I'm not stopping until it's right."