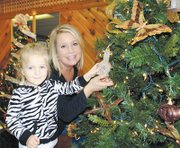 The Sunnyside Community Hospital Foundation has designated proceeds from this coming Friday's Festival of Trees in Sunnyside toward the purchase of a new fetal heart monitor for the family birth center.
Area physicians deliver about 600 babies a year at the hospital. The safety of every mother and baby, and their comfort during delivery are the foremost concerns of doctors and nurses at the hospital.
A fetal heart monitor is used to watch the baby as a mother is in labor. Family birth center Director Donna Dill has been phasing in new monitors over the past few years. The last piece of older technology is designated for replacement with proceeds from this Friday's event.
Fetal heart monitors can cost from $6,000 to $12,000. The new nine-crystal technology monitor allows for a deeper penetration of an ultrasound signal, which allows for pick-up of the fetal heart sounds earlier in pregnancy and more reliably on larger moms.
The "chart light" over the recorder allows the nurse to see the fetal rhythm when in a darkened room without disturbing the mom by turning on overhead lights.
The pulse oximetry has an audible sound that varies up and down as the mother's oxygen value increases or decreases, which alerts the nurse to changes before an alarm is triggered. It also is much more accurate and reliable when the mother is moving around as when she is pushing in active labor.
The cuff blood pressure is much faster in determining mom's blood pressure than before, which makes it more comfortable and more accurate. Also, the blood pressure machine knows not to inflate the cuff when mom is in a contraction so, again, to improve comfort and accuracy.
The fetal heart monitor has the ability to check the mom's heart rhythm beyond just the pulse rate, providing the actual ECG waveform in case of an irregular heartbeat.
The fetal heart monitor fundraising effort is off to a good start as to date 28 local businesses have sponsored Christmas trees for the Festival of Trees.
The Festival of Trees will be held from 6 to 11 p.m. this Friday, Nov. 20, and will be in the former Knott Hole Gallery Building this year. The building is located at 327 Yakima Valley Highway, across from Bi-rite Lumber.
Tickets are available for the event by calling 837-1649. They will also be available at the door.