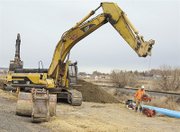 A long trench stretching out alongside Yakima Valley Highway headed west from Sunnyside is part of the city's effort to extend water and sewer utilities to the former Monson property.
Work started earlier this month at Homer Street near the Law and Justice Center.
Shane Fisher is the city's assistant director of public works, and he says the portion of Homer dug up to make way for the utilities should be paved over this week.
As for the trench digging underway along Yakima Valley Highway, Fisher says it will continue to a point about 700 feet west of Swan Road. There, the utilities will cross under the highway onto the former Monson property, a former feedlot the city bought about four years ago.
Sunnyside hopes to eventually convert the 150-acre site into a business park.
The size of the $1.56 million project is daunting, as when completed it will encompass 8,000 feet of new sewer line and 13,000 feet of new water main.
Fisher said the focus now is getting work done in the ground before a hard winter freeze hits.
Project contractors will then wait until early next year to actually dig into Yakima Valley Highway to cross over to the former Monson property.
Fisher said that's because the county is responsible for the highway and stipulates that its roads have to be re-paved as soon as work is completed. That means a hot mix of asphalt will have to wait until the coldest winter months are passed.
There's still the issue of water at the former feedlot.
Sunnyside dug a test well on the property that showed an ample water supply. However, when the city dug a well near the test site it came up with a flow rate of just 400 gallons per minute. Fisher said the preferred rate is about 700 gallons per minute.
As a result, Fisher says the city is working on a design to combine the two wells to achieve adequate water production on the property.
Fisher estimates the entire project extending water and sewer to the property will wrap up sometime around next March or April.
"We should be done by then but with construction there's always a hiccup here or there that will slow you down," he said.