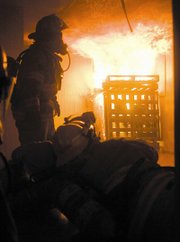 OUTLOOK - Firefighters from Sunnyside, Grandview and Yakima County District No. 5 were able to learn how fire behaves in a residential environment during a controlled house burn in Outlook last night, Wednesday.
The house, owned by an Outlook family, was slated to be torn down and was donated for the training purposes.
Approximately 55 firefighters from the three departments took part in the practice, which ultimately ended up with the house being burnt to the ground.
Sunnyside Deputy Fire Chief Lloyd Hazzard told the Daily Sun News that training operations like the one held last night are done whenever they get an opportunity. According to the deputy chief, training operations like this one are much more valuable than actual training centers, where propane is used as the fuel for fires.
"The crew can watch the fire grow and see how it progresses," Hazzard said. "They can see what the fire actually does."
The firefighters were split into teams of four. Each team would enter the house with a fire instructor and a safety officer. When a fire was lit the team would watch it grow and identify the different layers of smoke.
Several fires were started and extinguished during the nearly five hours the firefighters trained. Another benefit to the firefighters training was the close quarters they were training in. This gives them more experience if they need to enter an actual burning building.
Sunnyside Fire Chief Aaron Markham pointed out that the exercise also teaches firefighters discipline on how much water they use to douse flames.
He explained that the goal is to get them to spot the seat of the fire first, not to just start spraying. Too much water can cause steam in the room, which increases the temperature and causes more water damage.
For all but a few of the firefighters training last night the exercise wasn't new. For a select few, it was.
These recruits have less than a year with their respective departments and it gave them their first real look at a house fire.
"I didn't know what to expect," said Ingrid Mortensen, a volunteer firefighter with the Grandview Fire Department. "It was definitely awesome to see this in a controlled environment."
Her co-worker, Alex Sotelo, agreed. He said the training was valuable, but added it felt pretty hot inside the house.
But even seasoned firefighters enjoyed the evening.
"It's good training. The best you can do is live fire. It provides real scenarios," said Sunnyside Firefighter Chad Den Boer.