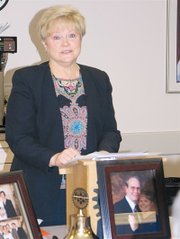 Follow the trail...that's Kathleen Anderson's mantra.
Anderson is Director of Lower Valley LDS Family History Center, which is located here in Sunnyside. She's a detective, of sorts, Sunnyside Daybreak Rotarians learned Wednesday morning.
Anderson's mission is to help people find out their family history. She does this with tremendous tenacity, searching through record after record after record.
"We have to work backwards and follow the trail," she said.
As an example, she literally pulled a name out of the hat prior to the meeting to demonstrate genealogy to the Rotarians. The name she chose? Jon Smiley.
She provided Rotarians with photocopies of what her search yielded, including aged census records.
Anderson showed census records from as far back as the 1800s and explained how important those records are, especially millennial census records.
"I know people were really irritated with the 2000 census because they asked so many questions," she said. "But this is how we pass history on."
Particularly useful, she said, is the 1900 census.
Anderson explained the adversity census takers must have faced in the 1800s and early 1900s. Not only were the census takers writing the information in a quill pen, they were either walking or riding a horse to each home. And, she said, because illiteracy was the norm back then, the burden of spelling names properly was on the census taker.
Digging back through the Smiley family tree, Anderson said she hit a wall in the 1870 census records. By then, she'd traced the Smiley family back to Indiana. Because families tended to stick to a particular county, and also more often than not stuck together, she simply started looking through county records for that period. "I just started scrolling down until I found (a relative)," she said.
Another tip for that time period, she said, is that women tended to have children right up until they died, and many died in childbirth. "If you do research, you tend to realize they usually had a lot of children," she said.
Anderson takes her job seriously. She spoke about closing out the computer after tracking the Smiley family heritage. When she went back to continue working, she couldn't find the file.
Her eyes filled with tears as she said, "Even the documents carry a spirit and you get an idea of what they had to go through to make this a great nation." She conveyed that she eventually realized she was logged on as a patron instead of administrator. When she logged back on under that account, she said, "There were my people."
She has profound respect for history, especially family history and knowledge.
"All of these names represent people and they have a lot to teach us."
She added, "We're in a technological age and we tend to forget about family (history). Is your story written down for your grandchildren?"
In terms of finding information online, Anderson praises the volunteers that sort through records, either scanning or entering it as data. Those interested in volunteering an hour a week to type information into a computer program to preserve history for familysearchindexing.com are encouraged to do so, she said. Many get started and end up typing data for far more than one hour.
She encourages keeping a biographical sketch. "Just start doing it. Do your kids know where and when you went to school? The things you did that got you in trouble? The things you were good at?"
With technology, tracing one's roots is made easier with websites like ancestry.com. "Or sometimes even Googling a name will get a lot of results," she said.
She said the Family History Center can assist those who want help tracing their family trees and there's no charge.
"That's what life is about-families, what we learn from their struggles and successes."
Those interested in utilizing the center's services can call 837-5002. The center is open every weekday morning from 8 to 10 a.m. or by appointment.