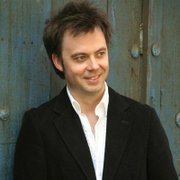 The fall of the Berlin Wall was the best thing to happen to Rudolf Budginas (pronounced "bud-guinness"), a Lithuanian-born pianist appearing in concert in Sunnyside Thursday, Dec. 3, as part of the Lower Valley Community Concert Series.
"It just simply brought many possibilities," he said of the wall's fall. "That's when I left for the U.S. and got a full scholarship at USC. The broken wall opened the door."
Budginas made the most of his musical studies at USC and the open door to a new country. He's since become accomplished as not only a classically trained concert pianist, but as a humorist, as well.
"I'm just trying to be myself and break the barriers between formal music and the audience," he said in a recent interview with the Daily Sun News.
His humor comes naturally. "I never take myself seriously," he said.
Combine that with the fact the 40-year-old enjoys music ranging from hard rock to classical music to pop, and Budginas offers something for all musical tastes - peppered with a healthy dose of humor.
Budginas says he came by his musical diversity - both in his interests and performance - when he was a college student at USC.
"When I came here and started to work at college and teach I had students I felt like I was behind and not keeping up with the life," he said. "I got involved and became really interested."
Budginas says his inspiration as a pianist was his parents, who are both musicians. "I just started playing at an early age and my life progressed," he said.
As for what Lower Valley audiences can expect on Dec. 3, the comedic piano virtuoso says he aims to creates an intimate and entertaining piano show which includes favorite pop, classical and jazz compositions like "Claire de Lune," "Moonlight Sonata," and "Rhapsody in Blue."
He is known for interacting with the audience by presenting information and humorous asides. With his charmingly accented English, Budginas also shares with the audience the variety of musical styles and the music he is about to perform.
"I want to keep my audience constantly surprised and excited throughout a concert," Budginas said.
According to Budginas, there is a direct musical line from Franz Liszt's "Hungarian Rhapsody" to Johnny Cash's "Walk the Line."
Lower Valley audiences will also be treated to Budginas' humorous presentation of how Billy Joel might have drawn on classical structures to get to "Piano Man."
As an accomplished piano soloist, Budginas has performed in far-flung places ranging from Salzburg to Seattle, from Barcelona to Budapest. He also trained at the prestigious Moscow Conservatory.
Budginas says his favorite venues, though, "are where people react. I have (played at) quite a few smaller towns and they have been some of my best audiences."
He currently resides near San Luis Obispo, Calif., and teaches at Cuesta College. He is also the conductor and chamber music director at Thomas Aquinas College.
Budginas' current nationwide tour started in September and won't end until next May. It's the longest he's been on the road.
"I'm loving it," he said, speaking prior to an engagement in Texas. "I get to see so much country and meet so many people. There are always some challenges on the road, but I have to be creative and open minded."
The road will bring Budginas to the Lower Valley next month, where he will perform at the Sunnyside High School auditorium at 1801 E. Edison Ave., on Thursday, Dec. 3, at 7:30 p.m., the second concert in the Lower Valley Concert Association's (LVCA) 2009-10 season.
Tickets will be available at the door.
For more information on the 2009-10 series, call Liz Donaldson at 509-786-3070; Jean Corliss at 882-1668; Virginia Norton at 509-786-1142; Barbra Skinner at 839-5222 or Carlina and Jorge Lobos at 509-829-6596 (Spanish).
As for youngsters considering a career in music, Budginas said to "be open minded and take any opportunity in life that you can."
He added, "You never know, you have to keep opportunities open. You have to be a sponge and learn from everything."