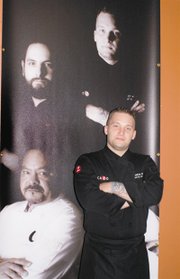 PASCO - Cooking competition newbie and Sunnyside resident chef Andy Jones trekked to the TRAC in Pasco last weekend to compete in the "Savor the Flavor" fresh chef cooking contest, but it was no easy feat making it to the stage, where he ultimately won out.
After filling out mounds of paperwork, being interviewed and preparing three dishes that best represent his culinary career for a review panel, Jones was one of eight contestants in the fundraiser. "It was a six-month process before we even showed up to cook last weekend," he said. All told, 16 chefs applied.
Perhaps it was Jones' background in radio combined with his creativity that earned him top honors at the competition.
Jones had selected radio for his first career path and he learned the ins and outs, like working with soundboards, electronics, scriptwriting, advertising and even deejaying. Jones was unsatisfied, though, until one day his mother suggested culinary school. After all, Jones' first forays into the kitchen were with his parents at the tender age of five.
Jones went on to attend Le Cordon Bleu, a culinary school in Portland. Today, he is Chef de Cuisine at Picazzo 7-17 in Prosser, owned by Executive Chef Frank Magana.
Recently, he appeared on Good Morning Northwest regarding the cooking contest.
"One of the things I want to do is get on TV," he said.
The cooking contest was a fundraiser for Oasis schools, so the crowd paid good money to enjoy the show. Of contest organizers, he said, "They wanted to make sure whoever they put up there was going to succeed and put on a good show."
Did he play up to it? "Oh, yeah!," he said with a laugh. "We got the crowd more interested, got 'em a little riled up."
Jones was tasked with creating a minimum of three dishes in each of the two rounds.
"I ended up doing four dishes in both rounds in 45 minutes," he said.
Contestants were given access to fresh ingredients, pantry ingredients and a mystery protein.
In the first round of competition, Jones' mystery protein was black cod. He created an appetizer by steaming the black cod and creating a saffron and garlic cream sauce and putting it over fresh baby spinach. He then made Merlot flour-crusted black cod out of the fish, which he served over mixed greens with a balsamic vinaigrette.
Jones made soup as the third dish, creating a Spanish Black Cod Fume.
For the fourth dish, he pan seared the black cod with roasted red peppers and cotija cheese. For sauces, he made chocolate mole and salsa Creole.
In the next round, he was given a rack of veal, which he cut up into a big loin, small loin and rib meat.
Jones took the small loin and wrapped it in green onions. "Like you'd wrap a present," he explained. He pan seared it and served it with Salsa Romedo.
He then made a rib-meat salad, with the meat brazed in beef stock served on top of red-wine brazed spinach. He served this with a basil lemon vinaigrette.
For his final veal dish, he made soup using the bones themselves to create the stock. "I was getting all of the flavor from the bones into the base of the soup." He then added carrots, onions, celery and, at the last minute, el dente asparagus.
For his final dish, he served a loin cut that was three inches round and one-and-a-half inches thick wrapped in bacon that he seasoned with cumin, peppercorn and chili powder. He pan seared it, then fried it in the oven. He made a demi-gloss with reduced beef stock and thickened it with flour and butter deglazed with red wine, and tossed in some shallots, garlic and crimini mushrooms. He also made garlic mashed potatoes.
To the average Joe, this might all seem a little intimidating. Not to Jones.
"My wife always says I'm weird like that," he said. "I have probably 200 cookbooks in the house, and magazines."
Cooking, he said, allows for freedom with creativity.
This was Jones' first competition, one in which he went from underdog (he was the youngest, too) to the top dog.
Last year, Sunnyside's Roger Hazzard won this particular contest. The Bon Vino's owner did not participate this year. "I was looking forward to going up against him," Jones said, adding that he's a friend of Bon Vino's co-owner Joreen Mensonides and a frequent visitor to the Sunnyside restaurant. "It would've been nice to compete against someone in the same area of business, going after the same contracts."
Of being a chef, he said, "You have to get into it for the love of it."
As for his children, Daya, 3, and Xander, 1, they're getting an even earlier start in the kitchen than Jones. "I can't keep 'em out!"