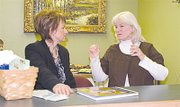 An open house and ribbon cutting ceremony to announce the opening of Life Options' Sunnyside satellite office took place yesterday, Thursday, and was met with community enthusiasm.
Community enthusiasm has been the theme in getting the office, located at the former Planned Parenthood building, opened, according to CEO Jan McDonald.
Life Options' home office is located in Grandview. "We were looking to (open) in Sunnyside, that's been our goal for years," said McDonald.
McDonald said she and others had already considered the building in the summer of 2008, but she wasn't happy with it. Then an opportunity to be housed in the same building as the new Swafford Halma Medical Center arose, much to McDonald's delight. Soon, though, she realized they couldn't move there because of confidentiality concerns.
"It seemed everything we had planned had fallen apart," she said.
Soon, they revisited the current building, and everything fell into place.
"We had a myriad of people helping," she said. People chose to volunteer in different ways to get the satellite clinic open, whether it was donating financially, furniture or talent, or even with labor.
"It seemed like the whole community came together to pull this off," she said.
Maybe the attitude of those who work and volunteer at Life Options helped, too.
"We decided we weren't going to participate in the recession," she said.
Currently, the center provides pregnancy tests and relationship counseling. "We did just order our ultrasound (Wednesday)," said McDonald. "Our goal is to be a fully operational medical office with ultrasound by 2010."
Life Options has received a grant to pay for a nurse practicioner for 20 hours a week, and the entity that provided the grant funding would like to see that person hired by mid-December.
"I think God has one out there for us, we just don't know who it is," she said. "We're just praying our guts out."
McDonald said her desire is that people will understand the motive behind Life Options' programs and operations.
"We're not in this for the money. We don't have to meet a quota. If you need longer than a half-hour, talk your heart out.
"We care deeply about this valley and the kids of the valley to have healthy relationships. We're in this for the community."
The Sunnyside office is open Mondays through Wednesdays from 10 a.m. to 5 p.m.