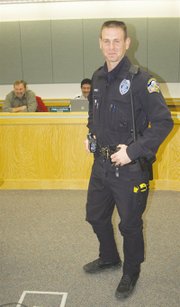 The Sunnyside City Council met last night, Thursday, for a budget workshop where hiring a new code enforcement officer and three police officers was discussed.
The council reviewed the police and building/planning budgets.
Sunnyside Police Chief Ed Radder told the council he has asked for three new officers to be included in the 2010 budget. This was the biggest increase in numbers for the police department, with $215,730 being slated for the new salaries and benefits, but two of the new officers will be funded from outside grants.
Once such grant was secured by the Sunnyside Housing Authority and will be used to fund a police officer to constantly patrol approximately 20 HUD sites in Sunnyside. The police officer assigned to the HUD sites will still respond to city calls as well but will also target drugs and gangs on HUD sites.
"We want to get the tenants more comfortable with the police," said Bill Eikenbary, who works with the Sunnyside Housing Authority.
Eikenbary told the council HUD will fund an office for the police officer complete with desk and computer.
Radder has also requested $10,500 for overtime for the three new police officers and $10,000 to fence the back area of the police department.
Sunnyside City Planner Jamey Ayling detailed the planning and building departments' budget requests for 2010.
Ayling said both departments have merged since they both operate from the same building.
The biggest expense request is the hiring of a full-time code enforcement officer for Sunnyside. To budget for this Ayling has asked for $57,000 to cover salary and benefits for this position.
Both Sunnyside Mayor Paul Garcia and Sunnyside Councilwoman Theresa Hancock were pleased with the planned hiring of a new code enforcement officer but Garcia asked if there was enough work to keep the code enforcement officer busy full-time.
He was assured there was plenty of work to be done and Ayling told the council ideally the new code enforcement officer will be cross trained to issue building permits, as well.
A public hearing on the 2010 budget is scheduled for Monday, Nov. 23, but the final budget won't be ready at that time. Council plans to open the budget hearing and then continue it to a later date when the budget is ready.
Council is still studying whether to fill three vacant positions in the city's streets department. City staff also needs time to make changes to the budget council has directed.