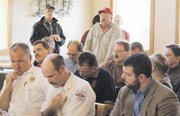 If you have manpower and machinery on site then you have a responsibility to act.
That in a nutshell is what firefighting agencies heard yesterday, Monday, during a nearly three-hour meeting in Sunnyside.
The meeting was in response to the 50,000-acre Dry Creek Complex fire in August, which destroyed the Silver Dollar Café north of Sunnyside at the junction of SR 241 and SR 24. The fire was started by lightning strikes.
State legislators convened the meeting to receive comments on how to better handle wildfires on property such as the Silver Dollar that are outside fire protection zones, sometimes referred to as "no man's land" or "stranded land."
Fire officials had the first say yesterday, but residents and utility companies in the area had the last word in testimony that at times became emotional.
Michael Harris is division chief for Benton County Fire District #1, and he opened the meeting by noting there were several hindrances facing firefighters at Dry Creek.
He said lack of radio communication, the speed and range of the fire as well as jurisdictional issues all were at play.
Worries about jurisdiction over which agency was in charge, as well as concerns over liability, fell on deaf ears to those impacted by the blaze.
Linda North lost her home to the fire. She said she understands the concerns that fire agencies have. But she noted that firefighters came to her house to evacuate people who were staying there while she was out of town, then stood by and watched the house burn.
"If you're going to respond when you said you wouldn't you have an obligation to do something," she said.
That cry was echoed by several other testimonies, including Rick Lounsbury, whose wife Martha owns the Silver Dollar.
Lounsbury said he was away from the café helping others keep the fire at bay away from their homes.
He says it never occurred to him that his eatery would be lost with firefighters inside eating and several fire department rigs parked outside.
Lounsbury said his wife was cooking hamburgers for eight firefighters when a neighbor ran in to warn of the approaching fire. He said two of the firefighters fled the place with their burgers, saying, "We got the last burgers out of that place."
Lounsbury said some firefighters declined to put water on the blaze because they weren't wearing clothing for a structure fire. "Water is water," he said, adding, "Not one bit of water was put on the place."
To make things worse, Lounsbury said he attempted to bring 3,000 gallons of water to the Silver Dollar Cafe fire but officials wouldn't let him through because it was deemed unsafe.
Reports from yesterday's testimony gave estimates that 18 to 30 pieces of firefighting equipment were in the area. Some were within just a quarter mile of a bridge that burned down.
Paul Tilley lives about a quarter mile from the Silver Dollar Café and kept his house from burning by using a patchwork system of wet blankets, water from a horse trough, buckets and shovels.
He testified yesterday that the house was saved without the help of firefighters.
Tilley said it cost a million dollars for fire personnel and equipment to be on site to essentially watch properties burn because they were out of jurisdiction.
Tilley said his issue, like many who spoke before him, is if there's no jurisdiction why were there fire rigs and men on the site.
"If you're going to be there, fight it. If not get the hell out of the way and let us do our job," Tilley said.
Residents weren't the only ones boiling mad yesterday.
Benton REA General Manager Chuck Dawsey fumed over the numerous poles and lines the electrical utility lost because firefighters refused to put water on them despite repeated requests.
Yesterday's meeting was ultimately about trying to find answers and to that end Dawsey suggested the legislature approve a "good Samaritan law" that would allow fire districts to cross jurisdictional boundaries.
"It's time to do the right thing," he said.
Such a law might have helped Darlene Dahlin, who lives across the road from the Silver Dollar Café.
She was able to save her home, but lost a friend, visiting from Oregon. Dahlin said she and her friend were leaving her house because of the spreading fire and he took a wrong turn. She says he had a heart attack and drove off the road and died.
Dahlin asked yesterday why there were no firefighters present to help give directions out of the fire danger.
Other suggestions during the hearing included involving more local residents in fighting fires in remote locations and having landowners in areas like the Silver Dollar Café unite to form a fire district of their own.
Dave Leitch is the fire chief for YCFD #12 out of West Valley and he said rural fire districts could be formed with a minimal amount of equipment. By having a fire district, he continued, remote areas are able to tap into interlocal agreements with other fire departments for mutual aid.
Sen. Jim Honeyford, R-Sunnyside, told the 100 or so people in the standing room-only crowd at Snipes Restaurant that the ideas and comments would be taken to Olympia in hopes of getting legislation passed during the next session, which starts Jan. 11, 2010.
Rep. Bruce Chandler, R-Granger, is the ranking Republican on the House Agriculture and Natural Resources Committee. He pledged that the issue of fires in no man's land will be taken up in Olympia before the legislature meets as a hearing on fire response is set for Dec. 4 at the capital.
Legislators get an earful in seeking solutions to fires in no-man's lan