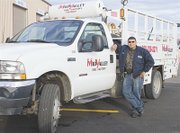 GRANDVIEW - Mid-Valley Chrysler Dodge and Jeep has undergone a lot of changes in the past few years and the Grandview company is in the process of adding yet another.
More than two years ago, the company added heavy duty Dodge trucks from the 4500 and 5500 series, a crowd pleaser for ranchers, farmers and contractors.
In addition, says general manager Brandon Christensen, 16,000 sq. ft. was added to the service department in order to service heavy duty trucks. "We also increased the size of our showroom by over 50 percent. We wanted to make it better, a little more comfortable for people waiting for service."
Alumaweld and Sanger boats have been added, as have RVs. The Sanger, added this past summer, is particularly popular. "We kept running out," said Christensen. "It was pretty busy all year for boats."
Efforts are currently underway to add Mid-Valley Tire Factory. "They have dealerships across the United States," said Christensen.
Mid-Valley is already a Tire Factory affiliate in Yakima.
Christensen said there is an advantage to being a Tire Factory affiliate. "(It) allows the 200 member stores to pool our buying power, so we buy at a (better price)," he said. "And Tire Factory has two different distribution warehouses in the Western United States. Generally, if we don't have a tire, the factory will ship by the next day at the latest."
When it was time to invest in new equipment, he said, "We bought the best money can buy, so we have state of the art equipment here."
Christensen said Mid-Valley in Grandview is already providing on-site commercial service to warehouses, farms and construction sites.
"Whether it's a scraper, backhoe, even a tractor trailer rig, we have the ability to do all the work now and we have a large inventory of tires.
"The fleets that we already work with have been keeping us very busy," said Christensen.
Ultimately, there will be poster and retail displays so customers can pick their wheels and tires at Mid-Valley Tire Factory.
"For all intents and purposes, if somebody wants or needs tires for their vehicle, they can talk to our service department," Christensen said.