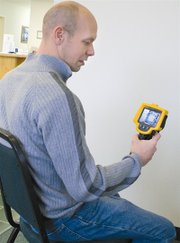 GRANDVIEW - Thermal imaging has been around for quite some time, but Andrew Conklin is emphatic that he's found a new application for the technology.
"Thermal imaging is only now gaining popularity in the field of building inspectors," he said.
Conklin owns Grandview-based Conklin Thermal Inspection, which serves the Yakima Valley.
"In a nutshell, thermal imaging uses infrared technology to detect and show temperature differences of material," Conklin explained, adding that thermal light is a light that's not visible to the human eye. "It's part of the electromagnetic spectrum that we perceive as heat."
Each material has a unique thermal signature. "When moisture, heat, cold or wood-destroying organisms are introduced to the structure, the thermal signature changes," Conklin explained, adding that's where the technology comes in handy.
"Through the use of the infrared camera, we detect those very small temperature differences and interpret the results," he said.
Conklin uses the technology to evaluate the condition of residential and commercial structures. Infrared allows for a rapid diagnosis in that it can quickly scan large areas like ceilings and walls to discern suspect areas.
"Not only does this often reveal issues that may have otherwise gone unnoticed, it significantly reduces the size of areas where more time-consuming and expensive, invasive investigation is necessary."
When Conklin does an inspection, he then provides the owner of the commercial or residential structure a report that includes scanned images of an affected area that needs to be addressed and, if necessary, a recommendation to explore more invasive techniques.
Conklin said thermal imaging can identify moisture in walls, ceilings and roofs. The infrared camera doesn't detect moisture, it detects the thermal imaging when moisture is present.
Thermal imaging can detect electrical hot spots, too, he said. "When parts of your electrical system begin to have problems, it gives off heat, usually a sign of excessive friction or electrical resistance," Conklin added. "Not only is it a potential safety hazard, but often by the time you're aware of it, the system has already unexpectedly failed...early detection not only eliminates the risk of fire or other hazards, it allows you to make repairs around scheduled down times."
Thermal imaging is a possible answer to mystery plumbing leaks that have the potential to cause greater and greater damage by the day, he said. "You have two options. You can call a plumber to open walls and trace the leak or you can have the walls thermal scanned to look for the leak non-invasively."
Conklin is also able to conduct insulation and heat-loss surveys, as well as identifying the location of wall studs and radiant heating tubes. "Rightly, homeowners are not willing to chance punching their walls full of holes when hanging a picture or shelf," he said.
Even though thermal imaging is excellent technology, it's not bullet-proof, he said. "It's not a magic sensor that will reveal every issue under the sun, or roof, as the case may be."
It's also not a "moisture-meter," as he puts it. "It only detects temperature anomalies, which may result from moisture."