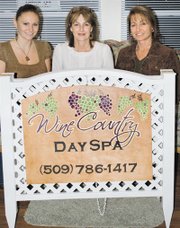 PROSSER - Whether a person has suffered injury at work or in a car accident, or if an individual suffers pain from the stress of daily pressures, Wine Country Day Spa offers relief through healing massage.
Stanlyn Nelson owns the small business located on Merlot Drive in Prosser. She is an esthetician and together with Tracy Humpherys and Janna Schatz offers a variety of services for clients of the spa.
"We are all interested in overall health, rather than just providing a service," said Nelson.
She opened the day spa last month after having worked with Humpherys at another business.
"We got to talking and we shared the same beliefs in treating clients," Nelson explained, stating the duo met Schatz and the idea of opening up the day spa blossomed.
"Janna expressed similar interests in caring for clients. She had her own business, treating patients who were injured in car accidents or on-the-job," she continued.
Because the trio believes in treating clients to promote overall wellness, each uses different massage techniques to help those who seek their expertise.
As an esthetician, Nelson treats clients with facial massage, including lymphatic drain. She uses organic products to promote skin health.
"Facial massage is important because the touch can be very healing," she said, stating there are pressure points on the face that when massaged can provide relaxation and a feeling of refreshment.
Schatz's background is based in medical treatment and she assists clients with chronic pain, incorporating reflexology and aromatherapy.
"The theory is nothing has to be what it is," she shared, stating individuals living with pain do not need to.
"Massage heals the mind as well as the body," Schatz commented.
Nelson added to the thought, sharing, "There are many who come to us who once were unable to relax..they learn to relax, knowing the massage table is warm and comfortable and when they leave they will feel revived and ready to complete the tasks ahead of them."
The women at Wine Country Day Spa don't only focus on massage therapy, but in educating clients on steps toward a healthy lifestyle, as well.
Nelson said they teach clients about the importance of drinking plenty of water.
"And I teach clients how to turn in their hips for better posture," Humpherys added.
She incorporates the use of hot stones to loosen tight muscles in addition to other massage techniques that help clients obtain a better sense of health.
"Not many realize the important role massage can play in alleviating whiplash, which cannot only be caused by a vehicle accident, but from a fall, as well," said Humpherys.
She said it is important to teach individuals to be in tune with their body, and that is a service she firmly adheres to.
"In terms of stress and energy...the energy is restored as stress is released. Because an imbalance in the body can cause pain, the pain is alleviated through massage and with the reduction of pain, a person's range of motion is increased," said Humpherys.
The women said they also believe in continued education for themselves.
"We want to take the best care possible of those whom we treat," explained Nelson, stating techniques in massage therapy are continuously advancing.
Nelson, Humpherys and Schatz provide their services by appointment. Nelson can be reached by calling 509-786-1417, call Humpherys at 509-832-0432 for her services or Schatz is available at 509-366-2399.