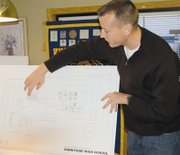 Sunnyside Kiwanis Club members this morning, Wednesday, were treated to a sneak peek at a remodel and addition planned for Sunnyside High School.
Assistant Principal Ryan Maxwell said at completion the project will add 42,000 square feet to the high school, about the same amount of room there is at Sun Valley Elementary School.
Maxwell said there is an urgent need for space because the high school was built to accommodate 1,000 students but at last count there were nearly 1,600 students at the school.
One example of the need for more elbow room is the school's commons, where students eat lunch. The current space has seating for 300 students, but there are 800 students who eat at school. As a result, Maxwell said students have to eat in the hallways or in classrooms.
The remodel will call for the 4,500 square-foot commons to be expanded to 12,000 square feet, almost tripling the space.
Maxwell said administration offices will be moved to new areas so that principals can see outside to the parking lots for better safety monitoring. Also, one administration office will be located separately to another area of campus to provide better coverage.
The school's welding and construction classes will be moved to the old bus barn, Maxwell said, and a new two-story building will be constructed near the current site of those classes to create more classrooms and a more suitable space to meet the needs of students in LAC classes.
The gym and auditorium won't be left out in the spruce up, as both will receive new sound systems and seating.
Also planned is a multi-purpose arts room to accommodate all arts classes.
The new construction elsewhere at the high school will also include an open air courtyard with benches and trees, Maxwell said.
Food service is in for some upgrades as well, as it will be moved so that it faces the football field.
Perhaps one of the most dramatic changes afoot is to the high school's main entrance. Currently, most consider the gym as the main entrance because of its dominant exterior features. As a result, visitors have to search for the school offices.
That will change with the remodel, as a two-story glass front is planned to the north, where the school's actual main entrance is located.
The remodel and addition is anticipated to cost around $30 million and will be funded primarily through state levy equalization money, Maxwell says.
Construction will start in September 2010.
This will be the second upgrade to the original high school built on the site in 1955. The first renovation was in 1986, which included the auditorium.