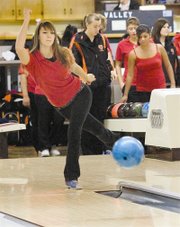 Powered by junior Brittany Blackketter's 350 two-game series, the Kennewick Lions blanked the Sunnyside High School girls bowling team yesterday, 4-0.
Tuesday's loss at Sunnyside's Valley Lanes dropped the Lady Grizzly keglers to 1-2 on the season.
In yesterday's opener, Kennewick got 171 and 163 efforts from Whitney McGary and Ashlen Ayers, respectively, as the Lions claimed a 745-698 victory.
Sunnyside was led by Maleesha Maltos and Nataly Alvarez in the opening game. Each girl rolled a 167, the top individual score on the day for the Lady Grizzlies. Rounding out the first game scoring for Sunnyside were Tiffany Spencer with a 134, Amanda Villarreal with a 116 and Marissa Martin with a 114.
Sunnyside's best effort in game two came from Maltos. She threw a 146. The Lions countered with a team-best 209 from Blackketter. Kennewick ended up prevailing in game two, winning 743-595.
The Lions clinched Tuesday's match by taking the first of two Baker games, 148-113. Baker bowling calls for each member of the five-girl squads to alternate taking turns throughout the 10 frames. Kennewick notched the 4-0 sweep by winning the second Baker game, 152-137.
Kennewick also posted a 4-0 win over Sunnyside in JV action yesterday. The junior varsity Lions were led by Dacia Bolt with a two-game series of 342 (170-172).
The Sunnyside JV's top bowler yesterday was Abi Bravo. She rolled games of 149-194 for a match-best 343 series.
Sunnyside's 'C' squad prevailed against the Lions, 3-1. After dropping the opener by a 452-417 score, the Lady Grizzlies rallied for a 482-466 win, then swept both Baker games from Kennewick, 137-103 and 129-83.
The SHS bowling team returns to action next Tuesday, Dec. 1, at home against West Valley. The Rams defeated Sunnyside by a 4-0 score in the season opener two weeks ago.