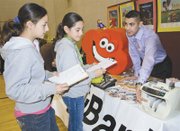 GRANDVIEW - "They get to learn about jobs other than what mom and dad do," said Grandview School District Parent Involvement Advocate Debi Foster.
She was speaking of the career fair held in Grandview this past Tuesday.
Students from all three of Grandview's elementary schools attended the event, learning from members in the community who serve as firefighters, law enforcement officers, accountants, bankers, respiratory therapists, engineers and more.
The career fair is an annual event in which fourth and fifth grade students throughout the school district can learn about various career paths.
Said Heather Judkins, a counselor at Harriet Thompson Elementary, "Students are encouraged to interview the presenters at the career fair."
Jamie Smasne of McClure Elementary further explained, "This gives them exposure to jobs in the community, as well as an opportunity to find out the education required to pursue different goals."
Each year the school district seeks individuals willing to share with students information regarding a chosen profession.
Two individuals, Tom Anderson of Sunnyside Community Hospital and Larry Wright of Prosser's Washington State University Extension Services, have attended all 12 of the district's career fairs.
"That means a lot," said Foster, stating the support of individuals in the community provides students with a better understanding that the choices for a career path are limitless.
"It's amazing to learn what the students aspire to become," said Smasne.
There are 22 fourth and fifth grade classrooms, averaging 27 students throughout the Grandview School District, according to Foster.
She said the career fair reaches students whose understanding of career possibilities might be limited, as well as students with a broad understanding of the various occupations that exist in the community.
"What we would like to see is more parents willing to share their careers, as well as more community members," stated Foster.
She said those interested in participating in the 2010 event can call her office at 882-8537.
"We would welcome anyone interested and can get them listed," Foster said.