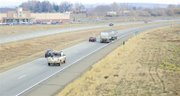 For those wondering why the Washington State Department of Transportation only worked on the westbound lanes of I-82 this past summer, rest easy. The eastbound lanes are slated to get their makeover next summer.
WSDOT found that the existing concrete pavement on I-82 between Granger and Grandview was developing faulting between the panels, which resulted in a rough ride and accelerated deterioration. This was especially true in the right lanes in both directions.
Mike Westbay, communications manager for the South Central Region of WSDOT, said I-82 has been around since the late 1970s and that concrete wears out over time.
"Grooves get worn in," he said. "Heavy loads and traffic wears the edges of the concrete panels down. The concrete panels can then rock back and forth."
Thanks to the 2009 American Recovery and Reinvestment Act, funding to rehabilitate the roadway was secured and construction began last July.
The purpose was to strengthen the westbound right lane and extend its service life by installing dowel bars in the wheel paths between each concrete panel. The project also replaced severely cracked panels and the surface went through a grinding process to put grooves in the pavement. This is supposed to improve the ride and extend the pavement life.
The grooves in the westbound lanes will help improve traction this winter and by next spring the pavement should be worn smooth again for summer driving.
Westbay said the westbound lanes were selected to be done first because they had the most wear and tear.
WSDOT secured $11.42 million for the project but the cost came in at $7.2 million, almost 40 percent below the original estimate.
WSDOT will take the remaining money and use it to rehabilitate the eastbound lanes of I-82 between Grandview and Granger next summer.