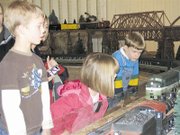 TOPPENISH - A ride aboard a caboose, a visit from Santa Claus, model trains chugging around tracks lined with villages and townspeople, decorated Christmas trees and much more all await visitors to the sixth annual Toy Train Christmas in Toppenish.
The holiday event kicks off this Saturday, Nov. 28, at Toppenish's Northern Pacific Railroad Museum.
Those who trek to the museum will find numerous railroad artifacts on display, as well as operating model trains in each room of the museum. The model trains range from 'N' and 'O' gauge to Garden size. Some of the layouts feature multiple trains, others have just one operating train.
"All are different and some are very old, while others are more modern," said Judy Boekholder, a museum spokesman.
"Some are hand-controlled and can be operated by children of all ages.
"The largest layout will feature an operating Garden-size train operating on over 300 feet of continuous track," said Boekholder.
Visitors to the museum will also find Christmas trees with a multitude of decorations, each with a different style and of different sizes.
Hot chocolate and cookies are offered each year, as well as a children's craft area, which allows youngsters the opportunity to create a keepsake.
The highlight of Toy Train Christmas is a ride aboard an actual caboose to the 'North Pole," where Santa and Mrs. Claus and several elves greet the visitors. Photos with Santa and his wife are available for an additional charge. The caboose ride provides travelers with a great view of the Toppenish rail yard, where all of the museum's old railroad cars are on display and are in the process of being refurbished.
"In past years many adults have commented that this is the first time they ever had a train ride or rode in a caboose," said Boekholder. "This unique event is great for children of all ages."
While in Toppenish, visitors are encouraged to view the city's 76 historic murals.
The Toppenish Northern Pacific Railroad Museum is hosting Toy Train Christmas on four consecutive Saturdays, from Nov. 28 through Dec. 19, 10 a.m. to 4 p.m. each of those days. The holiday event is also being offered on three consecutive Sundays, Dec. 6 through Dec. 20, again from 10 a.m. to 4 p.m. Admission costs are set at $6 for adults and $4 for children 12 and under.
photo courtesy of Judy Boekholder
Youngsters are fascinated by the model trains that are put into motion each year at Toy Train Christmas in Toppenish. The holiday event kicks off this Saturday, Nov. 28.