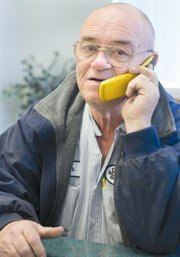 Ever since Jim Stanton of Sunnyside got a cell phone a few years back he's been paying a city tax for using the device.
The problem is Stanton doesn't live inside the city limits of Sunnyside.
He said in the past he's tried to talk to city officials but claims he couldn't get an answer properly explained to him as to why he was paying a city tax when he wasn't living in the city. Calling customer service at AT&T brought him no relief, either. Stanton said he was told by the phone company that it's the city that mandates AT&T collect the taxes.
So a frustrated Stanton stopped complaining and eventually accepted the fact that he was going to pay a city tax on his cell phone bill. Even his daughter, who doesn't reside within the city limits, was paying a Sunnyside tax on her cell phone.
But while Stanton lives just on the other side of the city limits north of town, his daughter was living in Seaside, Ore.
But Stanton still paid his bill, with approximately $8 every month going to the city. He figures he pays nearly $100 a year to the city.
"Times that by five years and that's $500," he said. "What city services am I getting for that?"
With the recent shake-up at Sunnyside City Hall, Stanton decided to give it one more try and attempt to find out why he is paying city taxes when he lives outside city limits. And he brought the Daily Sun News along for the ride.
The Daily Sun News contacted the city and AT&T to try to get to the bottom of the story.
Sunnyside interim Finance Director Bob Noland told the Daily Sun News the city doesn't mandate any company to collect taxes from its customers. He explained that the city imposes a 6 percent cell phone tax on cellular companies in Sunnyside. The 6 percent tax is on the company's yearly gross income.
It is the cell companies that then impose a surcharge on its customers to cover the taxes it must pay to the city.
Whenever property is annexed into city limits the city informs the phone companies of this.
John Britton, a spokesman for AT&T, told the Daily Sun News that the way AT&T picks who pays a city tax is by the place of primary use for the cell phone. This usually coincides with the customer's billing address, but not always. The pre-fix of the phone has nothing to do with it.
When AT&T did some investigating of its own, Britton said he found out that Stanton's address is listed inside the city limits on AT&T's vendor map. Not satisfied with that, Britton said the Washington State Department of Revenue was consulted and according to its maps, Stanton is also listed inside city limits.
But a quick check with the city confirmed that Stanton does indeed live outside the city limits.
Britton said AT&T is reaching out to Sunnyside to find out just exactly where Stanton lives and city officials say they will provide a letter for Stanton confirming he does not live inside the city limits.
"We are committed to accurate billing," Britton said. "We will settle this."
As for moving out of the area, a customer must notify AT&T, or their respective phone service provider, whenever they move outside their PPU. Britton said if the PPU isn't changed then the customer will still be charged any taxes tied to that area.
Britton said the situation should be cleared up by next week and Stanton will not be charged a city tax any longer, a notion that has Stanton tickled pink.
"I can't thank you enough," he told the Daily Sun News.
But it will be up to each customer to check their bills to see if they are paying taxes they shouldn't have to pay. And with the AT&T maps, as well as the Washington State Department of Revenue maps, seemingly not accurate, then there could be many more people like Jim Stanton out there getting ready to make a call to their service providers.