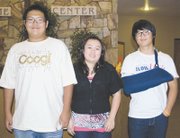 The three foreign exchange students at Sunnyside Christian High School have become more comfortable with their new surroundings as they immerse themselves in the culture there.
Two of the teens, Coco Duan and Xuefei "Bob" Sun, are from cities in China. The third exchange student, Jin Woo Chang, is from Seoul, South Korea.
All three said adjusting to rural life has been interesting as they are accustomed to the mass transportation system in their respective cities.
"To me, it is not new, but it is what would you say...inconvenient. I can't drive in either place, but in Korea you can go anywhere by subway or bus," said Chang.
He has lived in a rural area before, however. When he was younger, Chang lived in the suburban New Zealand city of Hamilton.
"My family travels a lot," Chang explained.
To Duan everything about her new surroundings is new. She has never traveled outside China before and is accustomed to going places when she desires.
"Now, if I want to go somewhere, I have to ask my host family to take me...it's hard because I can't go shopping by myself," she shared.
Chang and Sun both are living with Steve and Carel Hiatt of Prosser. The boys both joined the football team at Sunnyside Christian, although Chang suffered a break to his wrist and can no longer play.
Sun, on the other hand, has become a football fanatic. He said he didn't like the game before playing in his first game.
"I knew I was tired, tired, tired," he shared, stating the first football game of the season gave him a better appreciation for the hard practices.
Now, Sun said, he asks his host family if a football game is on television so he can watch the sport, as well as play it.
All three exchange students said they have gained new friendships at their school and in the youth group they attend at the Grandview Church of Nazarene.
"I like to spend time with my friends and go places...that is like any other teen, right?" asked Chang.
He said one aspect of living in the Lower Valley that surprised him was the fact that the movie theater is "not next to a McDonalds or something." The isolation of the theater surprised him because theaters in Seoul are in dense business districts.
The trio said they also have made adjustments immersing themselves in the Christian environment at Sunnyside Christian High School.
Chang is fluent in English...so fluent that he is familiar with a few swear words.
"In my country we say and do things for fun like slap one another on the butt," he explained, stating the knowledge that the culture at a Christian school may not be as lax makes him more cautious of his behavior.
"I have to watch my mouth and observe the behavior...I have to behave myself," said Chang.
Duan said Christianity was new to her and she felt some apprehension at the idea that she would be learning in a Christian environment.
"But now I am not because my classmates are very nice...I have a host family that studies the Bible and I enjoy learning about God," she shared, admitting her home country isn't very "understanding of Christians."
Duan is living with Grandview's Gary and Robin Brouwer.
Chang said there is some skepticism about Christianity in his country, too. He said there are churches throughout Seoul, but the leadership of many churches provide a negative image to society.
"The reverends drive expensive cars," he explained, stating he had been exposed to Christianity himself at a young age as a regular attendee of a church.
"In Korea, though, people go with what is popular now," said Chang, explaining the culture follows trends.
Sun said he has found his life in the Lower Valley to be life-changing. He said the people are friendly. He realized to gain friends he needed to also be friendly and outgoing.
"In China I was always angry and when I got here I was lonely...I had to code my mind to be more friendly," he said, explaining changing his mindset to become more comfortable was one of the better choices he has made since coming to the Lower Valley.
"I feel really different...I get to go to church and school is very different," said Sun.
He is much more comfortable in his new surroundings than he was in China, and he has found people are more accepting than he believed they would be.
"One thing I had never done was give thanks to God before meals," said Sun, stating he finds faith to be a good thing.
He said he appreciates the new experiences and has discovered his sense of humor is an asset.
"I have lots of friends and I like it here," Sun said, with both Chang and Duan agreeing Sunnyside Christian High School is a place they have all come to love.