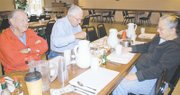 PROSSER - A round table discussion about this year's grape harvest took place this morning (Thursday) at the monthly grape fieldman's breakfast in Prosser.
Concord grape growers Lonnie Anderson and Kermit Dorsey both said the harvest is looking good this year.
Sugars are up and prices are at $190 per ton, according to Anderson.
He said he completed his harvest earlier this week, but many growers are currently in the throws of harvest.
Dorsey has yet to begin harvesting his vineyards, but said he is pleased with the outlook.
Professor Joan Davenport of the Benton County office of WSU Extension Services, too, said the 2009 harvest is promising.
She noted many wine grape growers are finding crops in Washington are yielding good sugars.
"The harvest is protracted, though," Davenport stated, saying wine grape growers are accustomed to having a delay between different varietal harvests, such as Merlot and Cabernet.
This year, she said, the summer evening temperatures did not drop as much as in years past. That helped a late growing season catch up and surpass average years.
"Growers are having to harvest in a short span of time...they are harvesting varieties back to back before the sugars get too high," Davenport said.
Anderson said the high sugars in Concords and Niagras grown in Washington are a benefit to juice processors, however. He said much of this year's Northwest crop is being used to sweeten products on the East Coast because grapes there are not reaching desired sugar levels.
That, he said, is credited to the unseasonably cool temperatures experienced by growers on the East.
Also discussed this morning were the laws regarding illegal workers.
Dorsey said he is considering the use of mechanical pruners for fear of risking the chance of having hand pruners that are not in the U.S. legally.
"I am too old for jail," he said, stating there isn't a guarantee the labor force will include only legal citizens.
Anderson agreed and the duo said workers must provide documentation. However, there isn't a guarantee the documentation is authentic and challenging any documents provided by employees can also create legal problems for growers.
"It's illegal to follow the law," said Anderson.
Grape growers and representatives of the industry can attend the grape fieldman's breakfast the first Thursday of each month at Prosser's Barn Restaurant. The breakfasts often provide insight into the industry and guest speakers provide details helpful to growers.