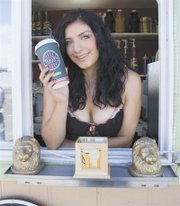 Savannah Desert Espresso is hoping to heat up Sunnyside this fall with its new espresso stand located at 415 Yakima Valley Highway.
Savannah Desert Espresso is Sunnyside's newest coffee nook and the drinks are served by attractive young ladies wearing a smile and barely anything else. It is the first espresso stand in Sunnyside to follow a Northwest trend of having the workers dress in lingerie.
Tomas and Beatrice Montelongo, owners of Savannah Desert Espresso, are originally from the Lower Valley but have spent the past 13 years in Seattle. They moved back to Yakima County three months ago and with the encouragement of family and friends decided to open an espresso stand.
"Our daughter worked at an espresso stand for more than a year in the Seattle area and learned the business," Tomas Montelongo said. "We thought it would be a good idea to open one here."
The Montelongos, along with their daughter Christine Contreras, checked out the competition in Sunnyside and noticed they are basically all the same. Both the Montelongos and Contreras wanted their stand to have a more exciting, exotic look. That's when they decided to have the workers dress in lingerie.
As Beatrice Montelongo explains it, the employee uniform is more like a costume than sexy lingerie.
"They all have clothes on underneath," she said. "They can't show their private parts or anything like that."
Tomas Montelongo said it is not their intention to be flashy, they just want to get a buzz about their business so people will come try Savannah Desert's coffee.
So far business has been good. But it's come with a price.
Savannah Desert opened last Friday and already there have been some people in the community who have expressed outrage at the lingerie-wearing employees.
Letters have been left over night at the business, warning the Montelongos that Sunnyside doesn't need them and for them to...get the hell out of here.
One lady, according to Tomas Montelongo, showed up and told the employees they represent the bad women of the world, calling them whores, as well as other derogatory words. Some angry citizens have showed up and videotaped the espresso stand, seemingly hoping to tape evidence of something sinister going on.
"We're just here to do our job," Contreras said. "We're not forcing anyone to come. We dress this way because it's fun."
Tomas Montelongo said he really didn't expect the reaction Savannah Desert Espresso has received from some of Sunnyside's citizens. Acknowledging that he might have been a bit close-minded, he said a lingerie espresso stand on the west side of the state isn't something that's really looked down upon.
"They shouldn't judge us, we're nice girls," Contreras said. "They should just come by and meet us, we're fun to get to know. We won't judge them."
The reaction hasn't been all bad, however. Several baristas from neighboring espresso stands have stopped by and welcomed the new business to Sunnyside. Other people have stopped by to tell the employees to keep going and stay strong. The tips have also been good.
Savannah Desert Espresso is a full-service espresso stand and Tomas Montelongo said the prices are being kept low to help generate a buzz for the business. Hours of operation are Monday through Friday, from 6 a.m. to 6 p.m. Saturdays the stand is open from 8 a.m. to 6 p.m. and 9 a.m. to 3 p.m. on Sundays.