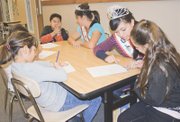 Reading and math are two areas in need of improvement at Sunnyside's schools, according to WASL score results.
That's why Miss Cinco de Mayo Marisol Velazquez chose to help youngsters in the schools improve their academic skills.
"When I was running for the court, I said I wanted to improve reading scores...but, I found math is another area where I could help too," she shared.
This past month, Velazquez and her court members, Tatiana Hernandez, Maritza Licea and Alexus Alvarez, have been working with students in the fourth grade classroom of Peggy LaPierre at Outlook Elementary School.
"We work with groups, helping them learn math strategies and reading comprehension," Velazquez said.
She and her court members visit the class each Tuesday and Thursday. They pull groups of students aside and focus on the day's work.
"I think it is important for kids to excel and achieve their goals," Velazquez stated, saying she has gained something from the work too.
"I think my communication skills are improving...with children and others," she explained.
Outlook is not the only school Velazquez and her court hope to work with. She said there is a plan to work with other elementary schools in the Sunnyside School District.
"I think we will be here for another month, but we haven't yet decided where to move on to," she said.
"We like helping the students become more successful and hope by giving back to the community the sense of purpose we feel will last a long time," Velazquez said.