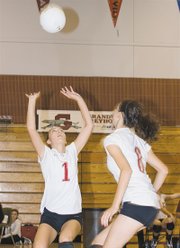 GRANDVIEW - Youth and inexperience hasn't derailed the perennially tough Grandview High School girls volleyball program.
Despite several sophomores and juniors, even a freshman, starting for this year's Lady Greyhound varsity team, Grandview is back atop the CWAC South standings.
"We're the youngest team in the league," said long-time Grandview Coach John LaFever. "It's a pretty good group."
The Lady 'Hounds improved their league record to 6-0 last night with a convincing 25-13, 25-11, 25-5 victory over the visiting Quincy Jackrabbits. For the Jackrabbits, sitting in last place in the CWAC North, Thursday evening's loss kept them winless in CWAC play.
Grandview received top-notch efforts at the net from two of their players last night. Haley Smasne tallied a team-best eight kills, and teammate Adriana Ramos added a seven-kill performance.
The team's two primary setters, Payton Parrish and Brandi Atkinson, also shone brightly against Quincy. Parrish collected a match-high 15 assists on the night, adding two defensive digs to her personal stats, and Atkinson came through with 13 assists via her sets at the net.
In defending the serves put into play by the Jackrabbits, LaFever said his club did a good job with serve-receive. "We passed and controlled the ball well," he said.
In taking on the visiting Quincy team, LaFever said the idea was to "...try to play our game."
One of the goals last night, he added, was to execute certain plays that were designed to get the ball to sophomore Mikeala Espinoza. Mission accomplished...as Espinoza came through with five kills at the net and six digs from the back row.
"She (Espinoza) is learning pretty fast," LaFever said.
Grandview returns to CWAC play next Tuesday at Othello.