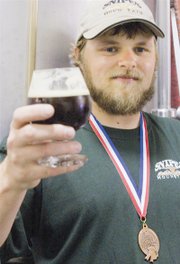 There's a first time for everything, including winning a medal at the prestigious Great American Beer Festival in Denver, Colo.
Snipes Brewery of Sunnyside recently learned that the judges awarded the local brewery a bronze medal for its Coyote Moon.
Chris Miller is a brewmeister at Snipes and entered the beer, an English Mild Ale, in the festival and it took third place honors out of 70 beers entered in the category.
There were nearly 500 breweries competing at the Great Amercan Beer Festival, with more than 2,000 beers entered in various competitions. Nearly 50,000 people attended the three-day festival.
Miller noted Coyote Moon has all the qualities that make for a good beer. "It's really a clean, light beer," he says. "It's a delicate session beer," he added of Coyote Moon, which has a nut brown appearance.
John Nyboer handles sales and distribution for Snipes, and he says Coyote Moon is the first beer the Sunnyside brewery has entered in the Great American festival, the largest of its kind in the U.S.
"You're always kind of surprised when you enter a national event and win," said Miller.
It may be a first for Snipes at the Great American, but the Sunnyside brewer has won plenty of ribbons from contests around the country. Nyboer estimates the brewery has upwards to 15 ribbons from various competitions.
"It's going to be 16 soon," Miller added with a smile, referencing a beer festival coming up in the near future.
It's all in a day's work at Snipes, home of great beer and the awards to prove it.
"Life is good," said Nyboer.