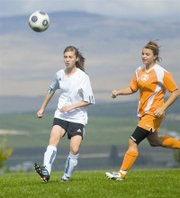 GRANDVIEW - The Lady Greyhounds fought tooth and nail with visiting Ephrata this past Saturday, but fell short, 2-1.
"We were pretty evenly matched," said Grandview Coach Anne Holden.
She said the Lady 'Hounds kept the Tigers from scoring in the first half, but Grandview was also scoreless going into halftime.
An impossible shot from Grandview's O'Ryian Matheny at the 54- minute mark changed it all.
"She scored, bending the ball from an impossible angle, leaving the (Ephrata) keeper stranded," recalled Holden, stating the goal surprised everyone.
"I had to tell the bench to get up and celebrate," she said.
The Tigers, however, were in for the fight and scored five minutes later.
Holden said Grandview keeper Stephanie Soto saved the ball and batted it down. Unfortunately for the Lady 'Hounds, Ephrata's Emily Sween was there for the rebound and kicked it past Soto into the net.
"The game was up for grabs, but we dug in deep and hung in until the 78-minute mark," commented Holden.
That's when Tigers Alex Youngberg and Nikki Pope fought past the Grandview defense. Pope passed the ball to Youngberg, who shot it past Soto for the winning goal.
Holden said the duo would not have been able to score had the Lady 'Hounds been more decisive and not lost possession in dangerous territory.
"But, there wasn't any give up...it was a pretty evenly distributed game with Ephrata having six shots on goal and Grandview having five," Holden shared.
She is proud of how her team played as a unit. "They were very physical.
"I told the team as long as they give themselves a chance to win the game there isn't anything to be upset over," Holden commented, stating her team did exactly that.
She said the youngsters are finding their identity and she believes the competitive spirit helps build their confidence and skills.
"When other teams are playing top-notch, we are playing top-notch...when the other team is playing lousy, so are we...it's a young team and we are developing our own style," Holden explained.
The Lady 'Hounds (1-6, 2-7) face off with the Bulldogs in Ellensburg tomorrow (Tuesday).