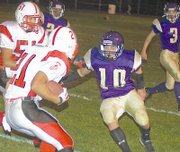 MABTON - It wasn't a pretty night for homecoming football in Mabton this past Friday.
Hosting league rivals Granger, the Vikings were blanked, 32-0.
The Spartans were led by Matt James, who scored four touchdowns in Friday's contest.
It was the big plays that hurt the Vikings, according to Mabton Coach Brandon Harting.
"We don't give ourselves a chance to stay in the ball game," he said of Mabton's continuing problems with big plays.
The first score of Friday's game came in the first quarter on a trick play. James scampered 43 yards on a reverse that fooled the Viking players.
The Granger wide receiver scored his second touchdown of the night a little later when he hauled in a 15-yard touchdown pass from Granger quarterback Francisco Morales. After the extra point the Spartans led 14-0.
In the second quarter the Spartans added to their lead when Daniel Martinez scored on a six-yard TD run.
James added two more touchdowns in the second half, scoring on a five-yard catch in the third quarter and a 15-yard catch in the fourth.
Francisco was 4-for-6 for 86 yards and three touchdowns on the night. James caught three of those four passes for 35 yards.
Granger's Chase Carpenter rushed 17 times for 89 yards and his teammate, Adrian Guerrero, rushed 10 times for 58 yards. Granger's running backs totaled 250 yards on the ground as a team.
The Vikings' offensive woes continued. Quarterback Josh Sanchez completed just 3-of-10 passes for 29 yards. The Vikings managed 123 rushing yards with Noe Gutierrez getting 97 of those on 14 carries. Mabton wide receiver Gus Martinez hauled in two passes for 26 yards.
The Vikings had one opportunity in the red zone but Gutierrez fumbled the ball. Harting said Gutierrez fumbled twice in Friday's contest but noted that was highly uncharacteristic of him.
"His fumbles came after giving an extraordinary effort," Harting said. "He broke tackles and fumbled in an effort to stretch for more yards."
Harting said most of the errors his team made Friday night were due to the players trying hard to make plays.
"We played hard, but they (Granger) made some plays," he added. "They did a great job of shutting us down."
Mabton (0-3, 1-4) will travel to Zillah for a game on Friday, Oct. 9, at 7 p.m.